World news story
Great Britain at the Expo Prado 2014
The Embassy and a number of British companies participated in Uruguay's main agroindustrial and business event, Expo Prado 2014.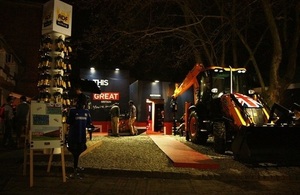 More than 14.000 people visited the British Embassy's GREAT Stand in the Expo Prado between 3-14 September. It was a successful return after several years of absence from the event.
Our visitors learned about, and in many cases purchased, the products and services of the companies taking part - all of whom are either British brands or have a link to the UK.
The agroindustrial area was represented by enterprises such as ADF Milking, which offers innovative milking technology, and JCB machinery represented in Uruguay by Tornometal.
In the education sector, International House and EF Education First, promoted their English learning courses in the UK and in Uruguay, and so did Viajeros Sin Frontera, which specialises in tourism and study trips. The three companies organized raffles that included their English courses in England and Uruguay.
Hundreds of people made the most of the special prices offered by Hunter and Barbour, in order to purchase latest fashion boots and jackets, which are now available in Uruguay.
Visitors could also try the new Hinds moisturising cream and learnt about other GSK products. The quality certification company, FCR-DAS, explained its services to the public, and also raffled a security and environment course.
The British insurer, RSA, supported the GREAT Stand by insuring the stand and all the goods belonging to the sponsors.
Diageo offered two very popular Johnnie Walker Double Black whisky tasting sessions.
Those who went to the Expo Prado were pleasantly surprised by different British music shows. The group Grianan, featuring Embassy team member Conrad O'Neill, played Celtic music. The City of Montevideo and Riverside Pipe Bands played their pipes, accompanied by Scottish dancing.
The Beatles Forever Band delighted guests at the reception held at the stand on 10 September as well as many passers-by.
The Embassy also surprised hundreds of visitors to the Expo Prado with a Flash Mob, thanks to the students of SG Danzatoria, who danced to Queen's We Will Rock You in one of the main pedestrian areas of the show.
Published 22 September 2014