Press release
Gravel removal work begins on the Wansbeck
Work will begin removing gravel in Morpeth on Monday 4 August.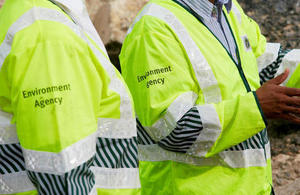 The Environment Agency this month begins the next phase of its gravel management scheme on the River Wansbeck at Morpeth.
The removal of gravel from the watercourse will improve river flow and maintain the gravel at a level that is in line with the design of the Morpeth flood scheme.
The work will involve the removal of material from a river bank at Stobs Ford, followed by work to reduce the height of the island downstream of the stepping stones at Bakehouse steps. Material will then be removed from a bank between Chantry Foot Bridge and Bennett's walk.
The works will begin on Monday 4 August; the schedule is expected to take around four weeks to complete.
Earlier this year the Environment Agency removed a substantial amount of gravel that had built up next to Oliver's Mill.
As well as reducing flood risk, much of the work is designed to create wider wet margins at the water's edge. These will help to maintain biodiversity along the river through Morpeth.
Increasing and enhancing marginal vegetation is a recommend method of improving rivers under the European Water Framework Directive.
When the work is done, the area will be surveyed and the levels will be used as part of the Environment Agency's ongoing gravel management plan in Morpeth.
David Clark, flood risk management officer at the Environment Agency, said:
This is important work to maintain the levels of gravel that can accumulate in the river over time. By removing material at key points in the watercourse, and monitoring the river over time, we can ensure that the water can flow freely and safely through the town's defences.
Anyone who would like any further information on the gravel management works can find out more by dropping into the Environment Agency's flood centre on Newgate Street, Morpeth.
You can also Register for free Flood Warnings if they are available in your area. You can register online or call Floodline on 0345 9881188.
Published 1 August 2014