Grant Shapps offers social housing tenants the freedom to take control
New 'freedom pass' for tenants trapped in unsuitable homes.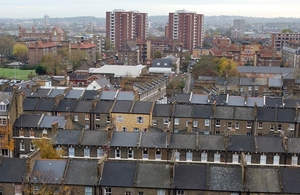 Housing Minister Grant Shapps is offering England's 8 million social housing tenants the opportunity to take control of where they want to live and their life opportunities. The new 'freedom pass' will allow tenants to move home for work, to be closer to family or for any other reason.
The minister will introduce a new National Affordable Home Swap Scheme, which will mean that for the first time tenants will be able to see details of other tenants in council and housing association homes looking for a mutual exchange - not just in their own area, but across the country.
Mr Shapps will also work with 2 London boroughs - Kensington and Chelsea, and Hammersmith and Fulham - to explore whether they can offer a new Right to Move so some tenants could ask their landlord to find them a home in the area they want to live.
The measures are aimed at improving the chances for tenants to move - in 2008, fewer than a quarter of all new lettings went to existing tenants. Those looking to move can face an uphill battle, often having to pit themselves against the record 1.8 million people on social housing waiting lists.
This boost for tenants comes as Prime Minister David Cameron kicked off a debate about ways of improving the system for new tenancies, and how best to help the most vulnerable in our society. The Prime Minister made clear government's commitment to protecting the security of tenure and rights of those currently in social housing.
Grant Shapps said:
"Today I'm launching a 'freedom pass' for all 8 million people in affordable housing in England. Social housing should provide more than a roof over people's heads - it should lift them out of poverty, and free them to take chances to improve the quality of their own lives. Instead, many tenants are left trapped in their own homes, while councils and housing associations turn their attention to record waiting lists.
"This cannot continue - as we work to tackle the record budget deficit we must ensure vulnerable people benefit from, but don't become trapped by, the safety net that social housing provides.
"That's why I'm putting tenants in the driving seat, with a new opportunity to see people like them looking to exchange social homes not just in their area but across the country, through a new National Home Swap Scheme."
Commenting on how government is taking a fresh look at security of tenure for new social housing tenants Grant Shapps added:
"It is quite clear that the real losers from the current system are the 1.8 million people on council house waiting lists who the current arrangements do not help. It is time to consider whether our affordable housing system can be better used and whether one of the benefits would be greater social mobility. This will have no impact on existing council or housing association tenants."
Published 4 August 2010