Grant Shapps offers 'Portas-Plus' plan to revive ailing high streets
Towns across the country have got their applications in ahead of today's deadline in the hope of becoming Portas Pilots.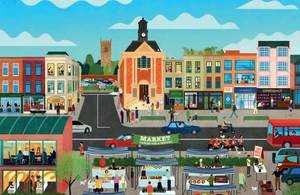 Ministers revealed the unexpectedly high level of interest whilst announcing that the government is accepting virtually all the recommendations put forward by Mary Portas last December.
The government today (30 March 2012) is for the first time issuing its formal response to the Portas High Street Review. Grant Shapps confirmed ministers are accepting the vast majority of Mary's recommendations - but that they intend to go further with a raft of new incentives, funding schemes and bureaucracy-busting measures, all in a bid to rejuvenate the country's rundown high streets.
Watch a video about the "Portas-Plus" deal for High Streets.
Video transcript (MS Word Document, 27 KB)
In what Mr Shapps referred to as a 'Portas-Plus' response, a new package of help has been drawn up including:
a multi-million pound High Street Innovation Fund - kick started by £10 million of taxpayers money focussed on bringing empty shops back into use - which, if supplemented by both councils and landlords, could see £30 million going to support new business start-ups whilst bringing empty High Street properties back into use
a £1 million Future High Street X-Fund, which will be awarded in a year's time to the locations which deliver the most creative and effective schemes to revitalise their high streets
a National Markets Day, launching a National Markets Fortnight, to celebrate the role markets can play, help aspiring entrepreneurs try out their business ideas, and encourage more visitors to town centres
a £500,000 fund for Business Improvement Districts, to help Town Centres access loans for their set-up costs
launching a further round of Portas Pilots, to trial some of Mary's recommendations and come up with new ideas to breathe life into underused high streets; this is in response to the massive interest from hundreds of locations across the country, sparked by the competition for the first wave of 12 pilots launched last month
Grant Shapps said:
Today, I'm accepting virtually all of the recommendations from Mary Portas's review - but I'm also going that one step further, offering a 'Portas-Plus' deal, with a range of measures designed to help local people turn their high streets into the beating hearts of their communities once again.

Mary Portas's review made crystal clear the stark challenge our high streets face. With Internet shopping and out-of-town centres here to stay, they must offer something new if they are to entice visitors back.

Her report has provided the catalyst for change that many towns have been craving. I now want to see people coming together to form their own town teams and turning their creative ideas into reality to ensure their high streets thrive long into the future.
Mary Portas said:
When I published my review I was clear that this was an action plan for our high streets, not a document to gather dust on Whitehall shelves.

I've been thrilled by the response of people, Town Teams and communities up and down the country, who have seized this opportunity to come together and form their own ideas. I'm pleased that the response from Grant Shapps today is designed to build on this momentum and give local people the tools they need to turn their creative ideas into reality, along with extra money to bring empty shops back into use.

Naturally I would have liked greater central intervention in critical areas such as change of use, parking, business rates and the sign off of new out of town developments and I will continue to fight for these, but I do believe that today marks the first day of a fresh new approach, putting our high streets firmly back on the public and national agenda.
Martin Blackwell, chief executive at the Association of Town Centre Management, said:
We all recognise that the high street in 10 or even 5 years will be radically different to that we see today. This government's approach, shown in the response to Mary's report, is giving local communities the opportunity to shape the future High Street they want to see in their town.
British Retail Consortium Director of Business, Tom Ironside, said:
We're pleased to note the government's made a common sense decision not to seek to restrict consumer choice in other retail locations. Avoiding imposing an exceptional sign off for out of town developments is the right approach. We also welcome the money which has been made available to enable the development of Business Improvement Districts and the steps which are being taken to reduce red tape that affects the high street. These detailed measures will be beneficial.

Retailers retain their concerns in relation to the excessive burden of business rates and the need for concrete action to ensure affordability, clarity and certainty for the future. We hope the government will return to this issue soon.
Responding to the first recommendation in the review, Mr Shapps said he wanted to see hundreds of Town Teams - made up of key players in the local area including the council, local landlords, business owners and local MPs - being formed and mobilised across the country to drive forward the necessary change.
He encouraged these Town Teams to consider:
how their high streets can become the "beating heart of the community", offering more than just retail with entertainment venues and leisure facilities, as well as housing and local public services;
how they can work with councils to use the forthcoming new powers to offer local business rate discounts, and to ensure businesses are aware of the option to spread the payment of the retail price index increase in business rates bills over 3 years, giving them the flexibility to manage their bills and help their cash- flow; this is in addition to Small Business Rate Relief, which in England has been doubled for 2 and a half years, from 1 October 2010 to 31 March 2013
how they could stimulate a vibrant evening economy by encouraging local shops to open later, offering a service to people as they come home from work, instead of people resorting to online shopping
how they could make more imaginative and exciting use of public spaces and remove street clutter to make town centres more pleasant for visitors
And confirming the government was accepting a number of other key recommendations to cut red tape and entice motorists to the town centre, Mr Shapps gave a commitment to:
help councils revoke unnecessary and archaic byelaws through a new streamlined process - enabling  outdated rules hindering efforts to get new markets and businesses up and running to be swiftly scrapped
reform current planning rules to allow the conversion of space above shops to 2 flats, rather than the current limit of 1
consult on abolishing centrally-set minimum parking charges, to give councils the flexibility to levy lower parking penalty notices if they choose; the government will also take steps to ensure greater transparency on parking charges to introduce greater competition between town centres
Notes to editors
High streets at the heart of our communities: the government's response to the Mary Portas review has been published today (30 March 2012).
The Portas Review: An independent review into the future of our High Streets was published on 13 December 2011.
The Love Your Local Market event will take place on 23 June 2012, designed to encourage more people to visit the high street and see what is on offer. This event, run by the National Association of British Market Authorities with support from the rest of the markets sector, including the Markets Alliance and the National Markets Traders Federation, will also give aspiring entrepreneurs the offer of a 'table for a tenner', giving them the opportunity to try out their own business ideas.
Small Business Rate Relief in England has been doubled for 2 and a half years, from 1 October 2010 to 31 March 2013. Eligible businesses occupying property with a rateable value of up to £6,000 pay no rates for that period, with tapering relief up to a rateable value to £12,000. To make sure no small firm loses out the Localism Act has simplified the process for claiming the tax break to encourage take up by small businesses.
In addition businesses will be able to defer payment of 3.2% of their 2012 to 2013 rates bills until 2013 to 2014 and 2014 to 2015. This will give businesses flexibility to manage their rates bills in the current economic climate, help their cashflow, and give them time to adjust to the impact of inflation. This means someone with a bill of a £10,000 could defer £320. More information is available in the related news item.
A list of the authorities to which £10 million High Street Innovation Fund Grant is to be paid can be found at:
Published 30 March 2012