World news story
Grand Opening of Jaguar Land Rover Facility
Dr Bryony Mathew, Chargée D'Affaires, gives opening speech at Grand Opening of Jaguar Land Rover Facility in Phnom Penh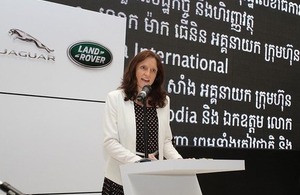 "H.E. Mr Chhan Vattanak, Undersecretary of State at the Ministry of Economy and Finance
Mr Mark Tennant, CEO of Guava International
Mr Ngorn Saing, CEO of RMA Cambodia
Excellencies, distinguished guests, ladies and gentlemen,
It's a pleasure to be here this evening to represent the British Embassy in Phnom Penh at the grand opening of RMA Cambodia's fantastic new Jaguar Land Rover facility.
Jaguar Land Rover epitomises two of the UK's key strengths: manufacturing and creative design. Britain has a long history of global leadership in manufacturing and design, going back to the beginning of the industrial revolution. Although the nature of manufacturing has evolved, this strength is still apparent today. UK manufacturing in the 21st century is high-tech, fast-paced and revolutionary. It creates innovative, high quality products. Today, manufacturing accounts for over half of UK exports and represents about 10% of the UK economy. So the UK's manufacturing sector is thriving and is playing a major role in the UK's economic growth.
Coupled with manufacturing success is British creativity. From architecture and engineering to music and art, creative design is evident throughout Britain and throughout British products.
Creative design is particularly evident in the automotive sector. Britain has one of the most productive automotive sectors in Europe and Britain is the world's second largest premium car producer. Within this sector, Jaguar Land Rover is one of the 21st century's global powerhouses in automotive design. Jaguar Land Rover uses world-leading technology and is leading the way in developing new export markets and growing engineering excellence in the UK. Jaguar Land Rover is in high demand around the globe, and as you can see when you drive around the roads of Phnom Penh, their cars are already popular in Cambodia too.
The UK and Cambodia have a very strong bilateral relationship and British and Cambodian companies alike have greatly benefited from the strength of this partnership, with UK-Cambodia bilateral trade going from strength to strength. Last year, bilateral trade surpassed 1 billion US dollars, and Cambodia's imports of machinery and transport equipment from the UK accounted for 43% of all UK export to Cambodia. And the figure is likely to be even higher this year – over the first five months of 2015, Cambodia's import of machinery and transport equipment constituted 44% of the UK's export to Cambodia. So this sector is clearly a very important part of our trade relationship.
Taking a wider view, I very much hope that the opening of this new facility will help to inspire young Cambodian people to consider careers in manufacturing or engineering. The British Embassy is currently working together with the Cambodian Ministry of Education, Youth and Sport to promote the study of STEM, that is Science, Technology, Engineering and Maths, in Cambodia.
Figures from the World Bank show that, in 2014, less than 6% of Cambodian University students were studying a scientific or engineering subject, while 46% were studying accounting, finance or management. But Cambodia needs more STEM professionals. More engineers, more statisticians, more architects, more computer programmers.
In the UK, STEM subjects have been integral to the UK's success. The UK is now the world's 6th largest manufacturer with an engineering turnover of around 800 billion pounds per year. And while the UK makes up only 1% of the world's population, it produces 10% of the world's top scientific research.
Cambodia's economic development currently depends heavily on traditional sectors such as garment manufacturing and tourism, but the government knows Cambodia needs to diversify into new sectors, in particular industry.
The British government is proactively supporting Cambodia's aspiration towards higher value production. This year, our world-prestigious scholarship, the Chevening scholarship, will seek to recruit up to 20 of Cambodia's brightest young minds for fully funded Master's degree scholarships in the UK, particularly in STEM fields. This is to help ensure that Cambodia will have the human resources it needs to support its development trajectory for both its medium and long term visions.
I will end by saying that I wish RMA Cambodia every success with this new facility, and I would like to thank you very much for inviting me to be part of this prestigious opening event."
Published 28 July 2015