News story
Graig Rotterdam report published
Fatal accident during cargo discharge of a bulk carrier anchored at Alexandria Port, Egypt.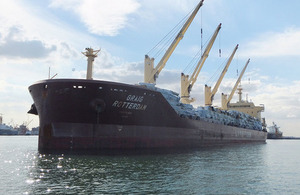 MAIB's report on a fatal accident when a timber deck cargo stack partially collapsed on the bulk carrier Graig Rotterdam on 18 December 2016, is now published.
The report contains details of what happened. subsequent actions taken and recommendations, read more.
Press enquiries
Press enquiries during office hours 01932 440015
Press enquiries out of hours 020 7944 4292
Published 9 November 2017