Press release
Graduated Fixed Penalties - one year on
Fixed penalties system raises nearly £3.5 million inside the first year.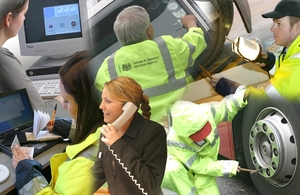 Bad brakes and excess weight are the most common offences among UK and foreign drivers who have been issued with fixed penalties in the past 12 months.
Since 28 May 2009 Graduated Fixed Penalties have been issued by VOSA examiners and those drivers that fail to confirm a satisfactory address within the UK are required to pay the penalty 'on the spot'.
The rules are part of a wider scheme and depending on the severity of the offence a one-off deposit requirement of between £300 and £900 can also be issued. Since the scheme was launched it has generated nearly £3.5 million.
The number of fixed penalties issued to UK drivers is more than 11,500 and to foreign drivers nearly 22,000.
VOSA Sanctions Manager Karen Farr said:
The introduction of graduated fixed penalties and deposits has strengthened VOSA's enforcement capabilities. This has meant that not only has the scheme provided an effective sanction for dealing with offending foreign drivers, but has also proved to be a valuable deterrent to all drivers regardless of nationality.

We have already seen increases in compliance for certain offences now that drivers are aware that we are serious about tackling road safety.
Payment will only be accepted in sterling or using a chip and pin card. Euros will not be accepted. UK drivers will have the usual 28 days to pay the fine or if they choose not to accept the fixed penalty have the case heard in court.
Notes to editors
The top 5 offences since 28 May 2009:
excess weight
braking system defect
weekly rest
fail to produce
view to front
Foreign-based drivers who fail to pay the penalty at the roadside are prohibited and the vehicle immobilised. The penalty can be challenged in court and the money will be refunded if the driver is found not guilty.
All inspections revealing failures for drivers' hours, overloading, mechanical condition or other vehicle related infringements will be fined between £30 and £200 depending on the severity of the offence. Offences relating to the condition of tyres, braking systems and steering will continue to carry driving licence endorsements.
VOSA is responsible for:
processing applications for licences to operate lorries and buses and registering bus services
operating and administering testing schemes for all vehicles, including the supervision of the MOT testing scheme
enforcing the law on vehicles to ensure that they comply with legal standards and regulations
enforcing drivers' hours and licensing requirements
supporting Traffic Commissioners to help them make informed decisions on operator licensing, vocational drivers and bus registration requirements
providing training and advice for commercial operators
investigating vehicle accidents, defects and recalls
VOSA media enquiries
You should contact our press office if you have a media query or you're a journalist.
Published 1 June 2010