Governor of Helmand Province in Afghanistan visits the UK
Gulabuddin Mangal, Governor of Helmand Province is taking part in a five day visit to the UK.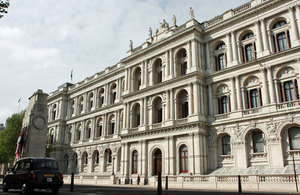 Today, Governor Mangal met Deputy Prime Minister Nick Clegg and Foreign Secretary William Hague. Governor Mangal gave a first hand update on the campaign in Afghanistan, explaining how the Afghans are taking increasing responsibility for their own security. He also offered a sense of daily life in Helmand Province specifically, including progress and achievements.
Later this week Governor Mangal will meet International Development Secretary Andrew Mitchell and Defence Secretary Liam Fox. He will visit the National Memorial Arboretum where he will participate in a wreath laying ceremony to show appreciation on behalf of the people of Afghanistan for the commitment from British troops.
Governor Mangal will also be answering questions from the public on Facebook. Governor Mangal will be able to discuss first hand the progress that he has witnessed not just on a military level, but also on the wider political, development and reconstruction level. Questions can be submitted via the Foreign Office Facebook page.
Published 1 November 2010