News story
Government's response to the sinking of the Costa Concordia
Foreign Office Minister Jeremy Browne and Transport Minister Mike Penning have updated Parliament on the Government's response to the Costa Concordia sinking.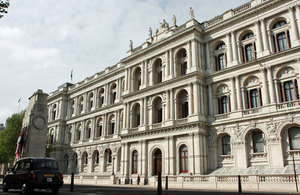 In a written statement the Ministers said:
"We would like to update the House on the Government's response to the sinking of the Costa Concordia cruise liner, which hit rocks off the Italian Island of Giglio overnight on Friday 13 January.
In doing so, we wish to express our profound sympathy to the families and friends of those who have died or are missing as a result of this dreadful event, and to pay tribute to the Italian emergency services who acted promptly and professionally to ensure such large numbers of people reached safety.
In the immediate aftermath, our priority was to establish whether all British Nationals involved were safe. We immediately deployed a British Embassy team of consular experts to Porto Santo Stefano and sent a Rapid Deployment Team from London. They worked in close concert with the Italian authorities and the cruise company throughout the weekend to identify all British nationals believed to be on board the ship, and to establish that they were safe.
The FCO Crisis Centre in London published a hotline number for worried family members and friends, cross-checking information on missing persons with that received from port authorities, the cruise company and local hospitals and hotels. As a result of this painstaking work the Foreign Secretary was able to announce on Sunday morning that all 35 British nationals known to be on the ship had been accounted for: 23 passengers and 12 crew members. The teams ensured that those British nationals who wanted to leave Italy were able to do so, even those whose passports, money and other valuables were left on the ship. Teams were deployed to the airport, as well as local hotels where British nationals were staying, to facilitate their return to the UK.
We have offered the Italian Government any assistance they may find useful in responding to this accident. In particular, we have made available the considerable maritime expertise available in our Maritime & Coastguard Agency and Marine Accident Investigation Branch.
At this time, the cause of the accident remains unknown. We must wait for the results of the investigation by the Italian authorities before deciding whether any action is required to ensure the safety of other vessels. Should the conclusions of the investigation suggest a need for revisions on any aspect of cruise ship design or operation, then the International Maritime Organization will be the forum for agreeing improvements. The development of passenger ship regulations is an iterative process based on practical experience. By applying the lessons from previous incidents the cruise industry generally enjoys an excellent safety record."
Published 24 January 2012