Government's commitment to the Military Covenant
There is widespread media coverage today reporting claims that Prime Minister David Cameron is reneging on his pledge to write into the law of the land the Military Covenant, the bond between the nation and her Armed Forces.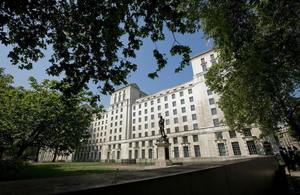 The Government is committed to rebuilding the Military Covenant and is legislating to make it a requirement for the Government to make an annual report to Parliament on how it is fulfilling its commitment to the Armed Forces, as well as defining the Military Covenant for the first time.
Defence Secretary Dr Liam Fox said:
We are absolutely committed to rebuilding the Covenant. Our Armed Forces make huge sacrifices for us, and in turn we will ensure we provide them with the support they need and deserve.
In July 2010 Prime Minister David Cameron asked Professor Hew Strachan, a military historian at Oxford University, to lead an independent task force to develop innovative ideas to support this aim.
The Covenant Task Force published its report in December 2010 which contained more than 90 recommendations for consideration. The Government will publish a full response in the spring.
Highlighting some of the recent improvements made in the support received by UK Service personnel, Dr Fox said:
We have already doubled the Operational Allowance and increased support to deal with mental health illnesses. In addition, we are legislating to make it a requirement that the Government reports annually on its work to deliver the Covenant and we are considering a range of further measures following the independent report of the task force on the Military Covenant which was commissioned by this Government.
Amongst the recent improvements are:
**Pupil Premiums
**For the 2011-12 school year the Service Pupil Premium will be £200 per Service child in Reception Year through to Year 11 for those children on a school's roll on 20 January 2011, when the Annual Schools Census was conducted.
**Further Education
**The Ministry of Defence is committed to looking after the children of our servicemen and women, and a further education scheme will ensure that university scholarships will be available to all.
As university funding in Scotland has been devolved to the Scottish Executive, discussions will be taking place between the Department for Business, Innovation and Skills, the Scottish Executive and the MOD to ensure that the scheme will be in place for students looking to study in England, Scotland and Wales.
The scheme will apply to the children of servicemen and women killed on active military service since 1990, giving them the chance to take up university scholarships.
The Government has also confirmed the continuation and expansion of a scheme to pay tuition fees for Service leavers undertaking Level 3 further education or undergraduate higher education courses for the first time, funded by the Department for Business, Innovation and Skills and the MOD.
**Queen Elizabeth Hospital (QEH)
**The new Queen Elizabeth Hospital is a state-of-the-art facility with over 1,200 beds and 75 critical care beds in a modern healthcare environment. It will have one of the largest burns units and 30 operating theatres. It was designed with patient care and infection control at its core.
Hospital treatment in the UK for our personnel is run through a partnership arrangement with the NHS, and the military ward at QEH is a prime example of that relationship at its best, providing the highest quality clinical care to our injured personnel and giving our medical staff the broadest and most up-to-date training and experience.
**New centre for surgical reconstruction and microbiology
**The newly-opened National Institute of Health Research centre for surgical reconstruction and microbiology will allow military and civilian trauma surgeons and scientists to share expertise and research for the first time.
It will boost survival rates of those suffering severe trauma in both civilian and military life.
**Mental Health
**The MOD operates a range of measures to tackle mental health issues. In Afghanistan, community psychiatric nurses provide any care and treatment needed, supported by visiting consultant psychiatrists.
There are 15 military Departments of Community Mental Health across the UK, which provide outpatient mental healthcare. The MOD works with a group of NHS Trusts to provide inpatient care. These arrangements mean that most patients can be treated near their units.
When back in the UK, Reservists can benefit from the Reserves' Mental Health Programme, which offers assessment and treatment for those in need. A similar scheme has also been introduced for MOD civilians who have deployed and might need such follow-up help.
The MOD is working with the NHS and Combat Stress to make sure veterans know about the support available, including priority NHS treatment.
Dr Andrew Murrison's recent independent study of healthcare for serving and ex-Service personnel has recommended improvements to current provision, which we are now working to implement, including 30 extra mental health nurses and a 24-hour helpline offering counselling and support.
The Coalition Government has committed £9.2m to ensure the best treatment possible for veterans with mental health problems by:
creating further veterans therapist posts in NHS Trusts

exploring the use of online counselling services

extending the Combat Stress helpline to function 24-hours-a-day, seven-days-a-week

providing training to GPs and other NHS staff who may come into contact with veterans with mental health needs, and

raising awareness among veterans themselves about services available to those with mental health problems.
The Department of Health has provided grant funding to Combat Stress to work directly with mental health trusts to ensure the services they provide are accessible to and appropriate for military veterans. In addition, a number of sites involved in the 'talking therapies' programme are tailoring their services to take into account the needs of veterans.
**Operational Allowance
**The tax-free Operational Allowance for those serving in Afghanistan has been doubled to over £5,280.
**Pay for lowest ranks
**This Government has shown its commitment to support our Armed Forces most closely involved in operations through the doubling of Operational Allowance, which focuses public money on those for whom the personal risk is particularly high.
Around a quarter of all military personnel earning under £21,000 will not be affected by the two-year pay freeze and all military personnel will still receive progression-related pay.
**Personal equipment, vehicles and weapons
**The MOD is continually evaluating the performance of equipment available on operations and looking at ways to improve it, ensuring front line troops have the best kit possible to respond to emerging threats.
We use the latest science and technology to ensure our troops' personal kit is as light and as comfortable as possible, whilst providing high levels of personal protection and everything they need to carry out their roles on operations:
• The new, lightweight plastic rifle magazines are stronger than the metal version and demonstrate how cutting-edge technology is being used to provide troops with lighter yet better equipment.

• Our world-class body armour has saved many lives and troops' personal protection is being further enhanced to include protection from IED blasts for the pelvic region - the first tier being ballistic boxer shorts that are worn by all troops on operations and are already proving effective at protecting troops from blast injuries.
We monitor the changing nature of the threat on operations, upgrading and enhancing our vehicle fleet to offer commanders a range of state-of-the-art vehicles to choose from depending on the task:
• Troops operating the recently deployed Warthog armoured vehicle - which is agile enough to operate in a wide range of environments whilst offering high levels of protection - have reported that it is performing to the high standards expected of it.

• We have also recently deployed the larger Wolfhound vehicle, more Husky vehicles, and have placed a contract for 200 Foxhound vehicles; light and agile, these are the most highly protected vehicles of their size and weight in the world.
**Armed Forces Bill
**The Bill places a statutory duty on the Defence Secretary to produce an annual report for Parliament on the Military Covenant.
The Government recognises the need to do much more to ensure our Armed Forces have the support they need, and that veterans and their families are treated with the dignity they deserve.
The commitment to rebuilding the Covenant will set the tone for Government policy aimed at improving the support available for the Armed Forces Community.
The Government has committed to rewrite the Covenant as a new tri-Service document which sets out the general principles which will be enduring and can be applied to particular problems as they arise.
Published 9 February 2011