Press release
Government working with leading engineering firms to create pathway to specialist skills
Government announces £5.6 million of funding for 6 projects creating new specialist skills and careers in the engineering industry.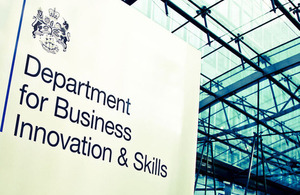 The government today (27 February 2015) announced £5.6 million of funding for 6 projects creating new specialist skills and careers in the engineering industry.
The projects are led by a range of businesses, from local Cheshire employer Tiger Trailers to major international carmaker Nissan. It will support individual skills projects in each business to help them meet the challenges and growth opportunities they see in the future and increase their workforces in the UK.
The 6 companies were selected under the government's Employer Ownership of Skills Fund, which helps UK engineering employers address skills shortages. The government is providing £2.8 million, matched by an equal cash contribution from employers.
The projects are:
global carmaker Nissan, to support the company in creating the skills base needed to build its next generation of luxury Infiniti model in the UK, supporting 1,742 staff
Hyde Group, to train new generations of specialist engineers servicing automated manufacturing machines
supporting a Gloucester-based surface engineering firm, Poeton, to establish a purpose-designed training centre to help it meet skills shortages in high technology coatings supplied to the aerospace, general engineering, renewable and nuclear sectors
helping built environment specialist BRE replicate the skills provision of its apprentice and graduate schemes to offer all of its staff the specialist skills needed to advance their careers
supporting start-up firm Tiger Trailers to develop 100 new posts in commercial trailer and vehicle body manufacturing
helping Lowri Beck's metering and data service team to open 2 new training centres to meet the demand for new smart meter engineers as the UK replaces 53 million gas and electricity meters by 2020
Kevin Fitzpatrick, Nissan's Vice President of UK Manufacturing said:
The start of production for Infiniti later this year will be a major milestone for Sunderland. It will be the first new car brand to be manufactured on this scale in the UK for 23 years and represents a major investment in both our people and facilities.

We welcome the support of the Employee Ownership of Skills Fund in developing the skills of our workforce. This will be critical in ensuring the successful launch of a car that will be exported to North America and China, the first time the plant has built vehicles for these markets.
The "Improving Engineering Careers" project is a part of the government's response to the November 2013 Perkins Review of Engineering Skills, which noted the huge positive impact an increasing base of engineers would have on the UK economy.
Continuing that commitment, the government is currently receiving applications for a new Employer Ownership of Skills Fund helping small businesses in the engineering sector grow and become more productive through investing in the skills of their current and future engineers.
Notes to Editors
The Employer Ownership of Skills funding came about in response to Professor Perkins' recommendations in his Review of Engineering Skills. A key recommendation of his was that: "government should invite employers to put forward innovative proposals to develop engineering skills in sectors suffering acute skills shortages".
The report also highlighted that the productivity of a trained worker is on average 23% higher than an untrained worker. Firms that train are also 2 and a half times more likely to survive than firms that do not. Training increases job satisfaction, lowers absence and staff turnover, and creates 'home grown' talent that is closely aligned to the specific needs of the business.
The 6 new projects follow initial funding approval for a seventh project in 2014, given to South West Water to improve the skills of its engineers.
The SME Employer Ownership of Skills Fund is open to any small or medium sized company that employs people in engineering occupations. Its aim is to help companies grow and become more productive through investing in the skills of its current and future engineers.
Government will contribute 50% of eligible costs to firms who have projects to provide extra training to employees to support career progression for existing engineers and conversion training for those wishing to move from other fields of expertise. The application process is designed to be fast and simple.
This form of funding builds on the positive experience of the Employer Ownership Pilot Programme (EOP). All the EOP projects have now been announced and are operational. The most recent announcements were on 3 February for Airbus, who will lead a group of employers in developing existing and future aerospace talent; on 5 February we announced support for small and medium sized businesses in the Leeds City Region to invest in the skills of their workforces, enabling them to develop and grow their business and on 12 February 2015 we announced a project led by Southampton University NHS Trust to improve skills for the NHS' 600,000 support workers.
Published 27 February 2015