News story
Government welcomes publications of OFT Report on home insulation market
The OFT report on the operation of the home insulation market was today welcomed by the Government. The report considers how the market for …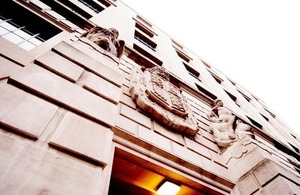 The OFT report on the operation of the home insulation market was today welcomed by the Government. The report considers how the market for home insulation currently operates and makes recommendations on how it could be improved in the future.
The report recognises the new, stronger protections for consumers being put in place under the Green Deal.
Energy and Climate Change Minister Greg Barker said:
"I welcome this report from the OFT, which highlights a number of important issues with the home insulation market. It shows that people are not always being well served by the current setup. That is why consumers are at the very heart of the Green Deal, which will enable people to save energy and money.
"I am pleased that the OFT recognises the efforts we are putting into the Green Deal to ensure it delivers the best deal for consumers, and I look forward to working with them to see how we can make it even better."
The range of consumer protections embedded in the Green Deal include:
A new Green Deal quality mark to protect customers from rogue traders. Any Green Deal installer, provider or adviser will have to display this seal of approval to demonstrate they comply with the required standards
A new Green Deal Oversight Body, which will carry out spot checks on Green Deal participants, like site visits or mystery shopping, to ensure compliance to the right standards. It will have the power to recommend if a company should be stripped of its Green Deal seal of approval
A clear complaints procedure if anything goes wrong
Green Deal plans for householders will be limited to fixed interest rate deals only. This will ensure simplicity and allow customers to compare offers
Clear information so customers know what they are signing up to, including two initial energy assessments, warranties and all permissions to be sought in writing before work is undertaken
Notes to editors
The Government-backed Green Deal programme will help bill payers make energy-saving improvements to keep their homes warm and cosy. With the Green Deal, people will be able to pay for some or all of the work done with the savings expected to be made on energy bills. The Energy Company Obligation (ECO), a subsidy from energy suppliers, will provide extra help for those most in need and for properties that are harder to treat.
Published 1 August 2012