Press release
Government welcomes publication of Julie Deane's independent review of self-employment
The founder of The Cambridge Satchel Company Julie Deane OBE has published her independent review of self-employment in the UK.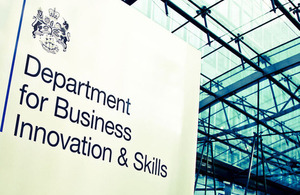 Commissioned by the Prime Minister last year (2015), the review assesses what additional support can be provided to the increasing number of self-employed people across the country, better understand their motivations and reveal the challenges they face.
The review makes a number of recommendations for the government to consider and outlines the need of the private sector to recognise the increasing economic potential of the self-employed.
Prime Minister David Cameron said:
Up and down the country there are millions of hard-working self-employed people and I want to make sure they get all the support and security they need to achieve their ambitions.

We're already helping with tax allowances, start-up support and with our ongoing commitment to cutting red tape, and given Julie Deane's experience of starting her own successful business, she was the ideal person to shine more light on the needs of self-employed people.

I'd like to thank Julie for her hard work in delivering this Review, and her wide-ranging recommendations will be carefully considered.
Independent Reviewer Julie Deane said:
I was honoured to have been asked by the Prime Minister to oversee this review of self-employment in the UK. With record numbers representing 15% of the workforce and growing, the self-employed is a diverse and important sector. Having long been part of this group I wanted my recommendations to be both practical and impactful. I believe I have accomplished that.
Business Secretary Sajid Javid said:
Entrepreneurs and small businesses are the backbone of the British economy, creating local jobs and supporting growth. The government is committed to supporting them and understanding the challenges and barriers they face is crucial to that. I welcome the publication of Julie's review and would like to thank her for her commitment in undertaking it.
Julie Deane's recommendations include:
government should consider reviewing how well information on its official website signposts the self-employed to access the advice and support already available
more flexible financial solutions for the self-employed should be offered, and trade organisations should play a key role in signposting these
the location and availability of shared work spaces should be better communicated, and consideration should be given to incorporating such spaces in local libraries and community centres
Notes to editors:
Julie Deane OBE started The Cambridge Satchel Company from her kitchen table in Cambridgeshire in 2008 with just £600. The company now turns over £10 million per year, employing more than 130 people and selling to more than 100 countries whilst still manufacturing all its products from its UK workshop.
Published 14 February 2016