News story
Government welcomes first phase of new £1 billion Manchester housing initiative
Government welcomes first phase of new £1 billion Manchester housing initiative following new partnership between Manchester City Council and Abu Dhabi United Group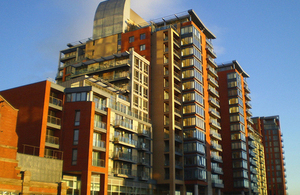 The Chancellor of the Exchequer, George Osborne, welcomed a new partnership between Manchester City Council and Abu Dhabi United Group (ADUG), the owner of Manchester City Football Club, to deliver the first phase of an initiative that will see up to £1 billion invested over the next 10 years in a new housebuilding project called 'Manchester Life'.
The investment comes the day after the Chancellor set out his vision - in a speech in Manchester - for a northern economic powerhouse by better connecting the great cities of northern England.
The first phase of the 'Manchester Life' project announced today will deliver over 830 new homes and it is hoped the partnership will kick-start the development of more than 6,000 properties.
Manchester Life Development Company, a joint venture between the two partners will be established to oversee the development with construction expected to begin next year.
Manchester Life builds on the regeneration activity in East Manchester that has been led by Manchester City Council in collaboration with a range of partners over the last 15 years, accelerated by Abu Dhabi United Group's recent development of the Etihad Campus and its City Football Academy.
The Chancellor said:
This investment is great news for Manchester. It will lead to thousands of new jobs and homes and will help secure the economic recovery across the city and beyond.

It is a vote of confidence in northern England and our long term economic plan. It shows global investors want to come to all parts of Britain and is a sign of the potential that exists to create a Northern powerhouse to take on the rest of world.
Commercial Secretary to the Treasury, Lord Deighton said:
This partnership is not only fantastic news for the city of Manchester, but can serve as a model for how successful private investment in housing follows when local government creates the right conditions. I would like to congratulate both Manchester City Council and Abu Dhabi United Group for another world leading collaboration following the work they have already undertaken together in East Manchester and look forward to Manchester Life breaking ground next year.
Photo courtesy of Irwellian on Flickr, used under Creative Commons.
Published 24 June 2014