Press release
Government welcomes agreement with Bahraini Higher Education Council
Agreement between Higher Education Academy & Bahraini Higher Education Council aims to raise quality of teaching in universities in Bahrain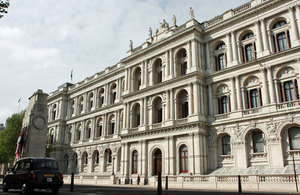 Baroness Warsi has welcomed the new agreement between The Higher Education Academy and the Bahraini Higher Education Council. The agreement will allow for the running of pilot workshops which will train staff to operate with UK standards and will award Fellowships to successful teachers. This is a brand new collaboration.
Baroness Warsi, Senior Minister of State at the Foreign & Commonwealth Office and Minister for Faith and Communities said:
I am delighted that The Higher Education Academy and the Higher Education Council in Bahrain will be working together. This collaboration is an important step in raising teaching standards in Bahraini universities and will reward staff for excellent teaching.
Further information:
The Higher Education Academy is the national body for learning and teaching in higher education in the UK.

British Business Pavilion As part of the WIEF, UK Trade & Investment has organised an exclusive-invite only British Business Pavilion (BBP). This event will be attended by business leaders and decision makers from the UK, the Islamic world and beyond. The Pavilion will showcase the UK's global offer in healthcare, education, finance, smart cities and trade with the Islamic world and how British expertise can play a key role in helping emerging markets realise their economic aspirations.

UKTI UK Trade and Investment (UKTI) is the government department that helps UK-based companies succeed in the global economy. We also help overseas companies bring their high quality investment to the UK's economy – acknowledged as Europe's best place from which to succeed in global business. UKTI offers expertise and contacts through its extensive network of specialists in the UK, and in British embassies and other diplomatic offices around the world. We provide companies with the tools they require to be competitive on the world stage. For more information on UKTI or visit the online newsroom.
Follow Foreign Office Minister Baroness Warsi on twitter @SayeedaWarsi
Follow the Foreign Office on twitter @foreignoffice
Follow the Foreign Office on facebook and Google+
Published 29 October 2013