Press release
Government wants UK to lead global robotics technology
The government today (23 March 2015) published its response to the Robotics and Autonomous Systems Special Interest Group 2020 Strategy.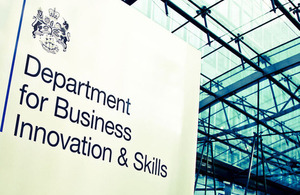 In the response, the government recognises the need to build on the local and national investment to support this technology and to raise the profile internationally of the UK's world-class position in robotics.
The government has also confirmed that it will implement the creation of a Robotics and Autonomous Systems Leadership Council to enable industry, academia and government to collaborate on the planning and execution of the Robotics and Autonomous Systems (RAS) strategy.
Business Secretary Vince Cable said:
From driverless cars to life-saving surgery, robotics and autonomous systems are playing an even bigger role in business and our day to day lives. Our response is clear – we are serious about grasping the full potential of this multi-billion pound industry to help drive local and national growth and are putting in place the mechanisms to make this happen.
Universities, Science and Cities Minister Greg Clark said:
This response to the Robotics and Autonomous Systems 2020 Strategy demonstrates our commitment to strengthening the UK's research and innovation capability in this exciting arena. By building on these recommendations and consolidating our existing strengths we will develop a world-leading position in robotics and autonomous systems that will change industries, create jobs and support economic growth.
The government will build on the UK's existing robotics and autonomous systems research and industrial capability to ensure that future growth and success is enabled across a broad range of core industrial sectors, such as aerospace, nuclear and automotive; in addition to enabling new capabilities in emerging cross-sectorial issues like demanding environments.
Robotics investment: Map (JPEG, 65.3KB)
Robotic prosthetic hand enabling regained dexterity and ability (JPEG, 4.67MB)
Notes to editors:
RAS technologies are estimated to have a potential global economic impact of $1.9 to $6.4 trillion by 2025.
RAS has the potential to increase manufacturing capability in the UK by as much as a fifth and will support the creation of a highly skilled workforce for a knowledge based economy.
RAS can increase the UK's health care productivity and reduce the total expenditure on long term care requirements of the UK's ageing population. Medical robotics will be applied in diagnostic systems, robot-assisted surgery and rehabilitation systems.
The government's response can be found at Robotics and autonomous systems strategy: government response
Engineering and Physical Sciences Research Council (EPSRC) and Innovate UK are the main funders of robotics and autonomous systems research in the UK.
The EPSRC is the UK's main agency for funding research in engineering and the physical sciences. EPSRC invests around £800 million a year in research and postgraduate training, to help the nation handle the next generation of technological change. The areas covered range from information technology to structural engineering, and mathematics to materials science. This research forms the basis for future economic development in the UK and improvements for everyone's health, lifestyle and culture. EPSRC works alongside other Research Councils with responsibility for other areas of research. The Research Councils work collectively on issues of common concern via Research Councils UK. For further information visit the EPSRC website.
Innovate UK is the new name for the Technology Strategy Board - the UK's innovation agency. We know that taking a new idea to market is a challenge. We fund, support and connect innovative businesses through a unique mix of people and programmes to accelerate sustainable economic growth.
Published 23 March 2015