Government trials parenting classes for all parents of children under 5
Information on a new scheme to help prevent pupil behaviour problems.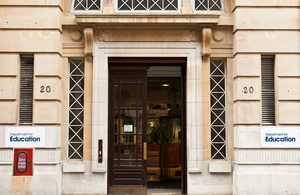 The government today announced a trial to offer vouchers for parenting classes to mothers and fathers of children under five. This is part of plans to increase support for parents to help them communicate better with their children, encourage good behaviour, and prevent problems developing later on.
The trial is likely to run in three or four areas of the country. The Government hopes to encourage demand for parenting classes and reduce the stigma of asking for information, advice and help with parenting.
Around three-quarters of parents say they want more information and support to help their parenting. The vouchers will potentially benefit parents from a wide range of backgrounds, not just those who may have significant problems, like drug or alcohol abuse. Many good and able parents still need information and advice in the early years of their child's life.
Most parents will have accessed antenatal classes during pregnancy, which provide useful guidance and support. The trial will give parents similar access to parenting classes in the first five years of their child's life, so that support does not stop when their baby is born but is available right through to when their child starts school.
Children's Minister Sarah Teather said:
The Government should do all it can, without interfering in family life, to support parents to be the best they possibly can be.

The first few years of a child's life can be the toughest period for parents' relationships. And these early years are also the most crucial for healthy child development.

Parenting classes can be life-changing because they give parents the skills to manage challenging situations, give their children clear and firm boundaries and help them learn the consequences of their actions. This strengthens families and means children are better behaved, more respectful and can achieve more at school.

Increasing help, advice and support before a child reaches school age also reduces the likelihood of families needing more expensive support later on. It makes moral, social and economic sense.
The Government wants to make asking for parenting support the norm rather than the exception. The Government will work with organisations with an existing track record to test the supply and demand for universal parenting classes, as well as other products and services that support families in the earliest years of a child's life.
Evidence shows that parents are the single most important influence on their child's development. They can have a lasting and positive impact on their children's emotional, physical and intellectual development.
Notes to editors:
The Government committed to helping more families to benefit from parenting advice and support, set out in The Families in the Foundation Years policy statement in July.
DfE enquiries
Central newsdesk - for journalists 020 7783 8300
General enquiries - for members of the public 0370 000 2288
Website: www.education.gov.uk/help/contactus
Published 19 September 2011