Government to strengthen child poverty measure
Government to introduce a new and strengthened approach to tracking the life chances of Britain's most disadvantaged children.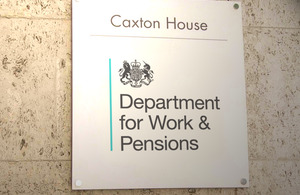 The government will introduce a new and strengthened approach to tracking the life chances of Britain's most disadvantaged children, Secretary of State for Work and Pensions, Iain Duncan Smith, announced today (1 July 2015).
Improving people's life chances will be central to the government's 'one nation' approach to the next 5 years and ministers want a much more effective measure focused on the real causes of poverty.
The current child poverty measure – defined as 60% of median income – is considered to be deeply flawed and a poor test of whether children's lives are genuinely improving.
This was shown when the number of children in poverty went down significantly as the economy shrank during the recent recession, when in reality there was little change to those children's lives.
The government will bring forward legislation to correct that with new measures focused on levels of work within a family and improvements in education attainment, 2 key areas in terms of improving social mobility.
The Secretary of State, Iain Duncan Smith said:
Eradicating child poverty is an absolute priority for this government, and I have consistently argued that it is not enough to tackle the symptoms without also tackling the underlying causes.

The measures announced today are the foundation of a new, comprehensive way of addressing poverty and reflect our conviction that work is the best route out of poverty.

Our new approach will drive effective government action by focusing attention on making meaningful change to children's life chances.
New legislation to replace the Child Poverty Act 2010 will use:
the proportion of children living in workless household as well as long-term workless households
the educational attainment of all pupils and the most disadvantaged pupils at age 16
The government will also develop a range of other measures and indicators of root causes of poverty, including family breakdown, debt and addiction, setting these out in a children's life chances strategy.
The announcement of new measures comes just under a week after the latest Households below average income statistics showed that child poverty in the UK remains at the lowest level since the mid-1980s.
Since 2010 the government has introduced the pupil premium, supported families through the ground-breaking Troubled Families programme and reduced the number of children in workless households to a record low.
The government has previously set out its ambition for full-employment in the UK in the Queen's Speech.
Further information:
The government consulted on better measures of child poverty in 2013.
Iain Duncan Smith referred to wider measures in an LSE speech in 2011: Families and young people in troubled neighbourhoods
Contact Press Office
Media enquiries for this press release – 0203 267 5124
Press Office
Caxton House
Tothill Street
London
SW1H 9NA
Follow DWP on:
Published 1 July 2015