News story
Government to start quicker publication of oil spill data
30 March 2012 Energy Minister Charles Hendry has announced that oil spill data will be made public by the Government more quickly after stressing…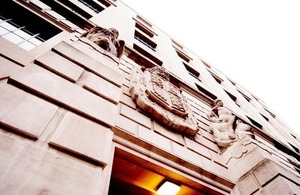 30 March 2012
Energy Minister Charles Hendry has announced that oil spill data will be made public by the Government more quickly after stressing the importance of dealing with the Elgin gas leak in an open and transparent way.
Speaking at a joint press conference held today in Aberdeen with Philippe Guys Managing Director, Total E&P UK of TOTAL, Charles Hendry praised the oil firm for their swift and well executed emergency response that meant all 238 crew could be evacuated safely from the Elgin platform in just three and a half hours.
He added the Department of Energy and Climate Change (DECC) was responding to the need for transparency by regularly publishing all spill data received by DECC in the Petroleum Operations Notice 1(PON1) from operators.
Currently PON1 data is published annually in the Advisory Committee on Protection of the Sea's report. From Monday, that information will be published monthly on the DECC website. Historical data from the start of this year will also be added.
Charles Hendry said:
"In my discussions this morning with Philippe Guys at TOTAL we focused on the progress that has been made tackling the Elgin gas leak and the need for a very clear strategy moving forward - so that there's a great deal of transparency about how this process will work and what is expected at each stage of that process.
"It's important that this incident is dealt with in an open and transparent way. From the Government's perspective the Elgin field's oil pollution emergency plan has been put on the DECC website to give people the opportunity to analyse that information in detail.
"From Monday my department will be making all oil spill data available more quickly on the DECC website. Information on spills which have been reported to DECC going back to the beginning of this year will be put on there as well.
"We have also established a Government regulator's group to allow a full interchange of information and to inform decisions between all the relevant parties. The Health and Safety Executive is an integral part of that process together with the Maritime and Coastguard Agency, Marine Scotland and, of course, DECC itself."
---
Notes for Editors
From Monday 2 April PON1 data will be made available on the DECC website.
Petroleum Operations Notice 1 (PON1) is the notification used by operators and permit holders to notify DECC of all oil and chemical releases to sea - no matter how small.
At present, PON1 spill data from offshore installations is published annually in the Advisory Committee on Protection of the Sea (ACOPS) survey.
The publication of PON1 data will be on a monthly basis and will supplement the annual statistics currently available on our website:
More on Elgin
Published 30 March 2012