News story
Government to hand regulator powers over key players to pave way for new payment methods for customers and more banking competition
Major credit and debit card providers among the main 'payment systems' government proposes bringing under the scope of powerful new regulator.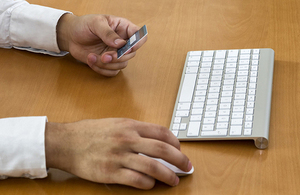 Major credit and debit card providers are among the main 'payment systems' used by British businesses and consumers each day that the government is proposing to bring under the scope of the powerful new Payment Systems Regulator (PSR) from April next year.
Key to the government's long term economic plan is increasing competition and choice in the banking sector. The payment systems are at the heart of this – every time someone uses a cash machine, pays for something on their card or transfers money from their bank account, they are using them, with 18.5 billion non cash payment transactions made in Britain last year.
In 2013 the government announced the creation of a new, economic regulator charged with increasing competition and innovation in the payments sector, which has traditionally been dominated by a small number of systems and the big banks.
From April next year, the PSR will have strong new powers to ensure the way these established payment systems are run do not hold back competition in the sector, including requiring competitors such as challenger banks and smaller firms to have access to these systems on fair terms, and if necessary the power to order the owners of the more established systems to break them up or sell them.
Enabling challenger banks and smaller firms to access the payment systems on fair terms is key to helping them grow and compete with the big banks, by ensuring that where they need to gain access via one of the big banks, they can do so in a transparent way and avoid unnecessary costs.
The PSR will also have powers to ensure that payment system operators place customers firmly at the heart of what they do, including by being able to compel these operators to develop and deliver strategies that provide genuine, timely innovation for customers. Some recent examples of innovation have included the ability to pay in cheques digitally, via your smartphone, and the introduction of the new Current Account Switching Service.
The government has today launched a consultation on which payment systems it proposes to designate for regulation by the new PSR. These are Visa and Mastercard, as well as the main 'interbank' systems which include Bacs, CHAPS, Faster Payments, Link and the cheque clearing system.
92% of credit and charge card transactions, and 100% of debit card transactions in Britain are made through Visa or MasterCard. The main interbank payment systems cleared 7.3 billion items, worth over £75,687 billion last year.
Economic Secretary to the Treasury Andrea Leadsom said:
A key part of the government's long term economic plan is to open up competition in the banking sector so that it serves the needs of Britain's businesses and customers.

An open and transparent payments system is crucial to give new players freedom to challenge the big banks without unfair barriers, and encourage new, innovative ways for customers to make payments.

Today's consultation is an important step along the road to a more competitive banking sector focused on each and every user of financial services.
In order for a payment system to be designated for PSR regulation, the Treasury must be satisfied that "any deficiencies in the design of the system, or any disruption of its operation, would be likely to have serious consequences for those who use, or are likely to use, the services provided by the system."
In making this assessment the Treasury must also have regard to the number, value and nature of transactions handled by an individual payment system, whether an alternative system could handle those transactions, and any linkages between the system and other payment systems.
The government is consulting on its proposal to designate the systems for four weeks, after which it will make its final decision. Any designation orders will be effective by 1 April 2015, at which time the PSR will assume responsibility for regulating these payment systems.
Photo credit Daniel Foster under Attribution-NonCommercial-ShareAlike 2.0 Generic Creative Commons license
Published 14 October 2014