Government targets illegal firearms
Consultation on strengthening law on illegal firearms launched by Theresa May as part of government's drive to end gang and youth violence.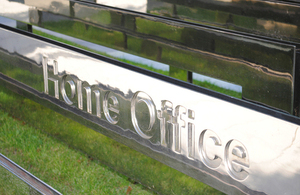 The public, police, Crown Prosecution Service, victims groups, the judiciary, voluntary and community organisations will be asked their views on:
the need for a new offence of possession of illegal firearms with intent to supply; and
 whether to increase the penalty for illegal importation of firearms.
The UK has some of the toughest gun laws in the world and as a result firearm offences continue to make up a small proportion of overall recorded crime.  However, gun crime associated with street gangs and organised criminals, particularly in our largest cities, is a cause of major concern with young people featuring disproportionately among both perpetrators and victims. 
Home Secretary Theresa May said:
'We need to target not just those who use illegal firearms but those who import or supply them.  These middle men are as responsible as those who pull the trigger for the terrible harm gun crime causes.
'We must ensure our laws properly punish and deter all criminals and protect our communities.  That's why, as part of the cross-government work to end gang and youth violence, we are giving the police and local agencies all the tools and powers they need.'
Firearms offences are geographically concentrated in London, Greater Manchester and the West Midlands.  At the same time young people are disproportionately the victims of gun crime: 15 to 29-year-olds comprise 20 per cent of the population but were victims in 45 per cent of firearms offences (excluding air weapons) in 2010/11.
Stashes of different types of firearms and ammunition have been recovered, from which ballistic evidence suggests the same weapons have been used by different and even rival gangs and groups, over a wide geographic area and over several years.
While there are a range of existing offences, none deal specifically with possession with intent to supply illegal firearms. At the same time, the police have argued that current maximum penalty for illegal importation - 10 years' imprisonment - is too lenient and does not reflect the harm caused by firearms to our communities. 
Views are invited on the consultation which will run for 12 weeks.  It is the latest government action to deliver on commitments in Ending Gang and Youth Violence published in November 2011.
In January 2012, gang injunctions were extended to 14 to 17-year-olds.  Meanwhile £10 million of Home Office funding is being used to provide practical help and support to up to 30 areas most affected by gang and youth violence, with the first 22 areas named in December 2011.
A new ending gang and youth violence team has been established and is working closely with police and local authorities around the country.  Consisting of expert advisers from a range of statutory, voluntary and community sector backgrounds, the team is headed by the Metropolitan Police's former gangs lead, Chief Superintendent Mick McNally, who has been seconded to the Home Office.
NOTES TO EDITORS
1. The 'Consultation on Legislative Changes to Firearms Control' can be found on the Home Office website at: https://www.homeofficesurveys.homeoffice.gov.uk/v.asp?i=46612neufh
2. The maximum penalty for committing a firearms offence under Section 5 of the Firearms Act 1968, which includes "supply" and "possession" but not "possession with intent to supply" is 10 years' imprisonment.  The mandatory minimum sentence for those aged 18 and over is five years' imprisonment, and three years for those aged 16-17 years.  Under Section 16 of the 1968 Act it is an offence to possess a firearm with intent to endanger life with a maximum penalty of life imprisonment.
3. The current maximum penalty for illegally importing firearms or ammunition under Section 170 of the Customs and Excise Management Act 1979, where the weapons are subject to general prohibition under Section 5 of the Firearms Act 1968, is a sentence of 10 years' imprisonment, an unlimited fine or both. 
4. The cross-government report 'Ending Gang and Youth Violence', published on 1 November 2011, contained a commitment to consult 'on the need for a new offence of possession of illegal firearms with intent to supply, and the penalty level for illegal firearm importation.' The  report can be found at: http://www.homeoffice.gov.uk/publications/crime/ending-gang-violence/
5. For more information please contact Home Office Press Office on 020 7035 3535.
Published 8 February 2012