News story
Government takes action to promote the provision of affordable credit through credit unions
Economic Secretary encourages employers and voluntary sector organisations to engage with credit unions.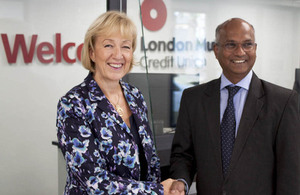 The Economic Secretary to the Treasury, Andrea Leadsom, today encouraged employers and voluntary sector organisations to engage with credit unions to help them provide affordable credit and responsible financial services in their communities.
Following the launch of the government's call for evidence on credit unions in June, the Economic Secretary today visited London Mutual Credit Union to hear first-hand how credit unions are providing a payday loan product at a fraction of the costs charged by payday lenders.
The Economic Secretary also led a round-table of leading employers and third sector organisations, organised by the Chartered Institute of Payroll Professionals, to discuss how employers can use their payroll systems to allow workers to plug directly into their local credit union, without having to transfer money themselves every month.
This latest push follows significant government action in this area, including:
earmarking a fund of £38 million for the Department of Work and Pensions' Credit Union Expansion Project, which is already well underway
modernising the existing legislation governing credit unions and lifting the cap on the maximum interest rate credit unions can charge from 2% to 3% per month to help the credit union movement grow
legislating to require the new stronger financial regulator, the Financial Conduct Authority, to impose a cap on the total cost of payday loans
There has also been significant wider interest in the work of credit unions. For example, the Archbishop of Canterbury has launched a Task Group on Responsible Credit, led by Sir Hector Sants, and Lloyds and Barclays have promised £4 million and £1 million respectively of funding for credit unions.
Economic Secretary to the Treasury, Andrea Leadsom said:
Credit unions play a vital role in their communities, providing access to affordable credit for those who need it most. This government is determined to help credit unions provide these services to even more people. That is why I am today urging private sector employers and wider society to consider what more they can do to promote the use of credit unions among their employees and communities.
Lucky Chandrasekera, Chief Executive of London Mutual Credit Union said:
Credit unions are seen as the growing local financial service providers in the UK and best able to help the most vulnerable people in our community. Given the right framework, technology and leadership, they are poised to provide a real alternative to payday and door step lenders for anyone looking for affordable and ethical finance.
The HM Treasury Call for Evidence, which is open until 1 September, sets out two challenges:
to the credit union movement: to set out its vision for the future, and consider how the government can help it achieve this vision
to the private sector and wider society: to consider what more they can do to help promote the use of credit unions, and how the government can facilitate and encourage that
Published 12 August 2014