Government sets out strategy to be Positive for Youth
Children's Minister Tim Loughton publishes the government's new vision for youth services.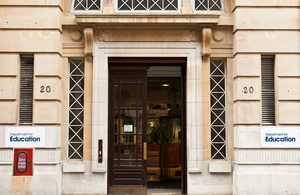 Young people across the country should be able to inspect their local youth services and advise on how to improve them, Children's Minister Tim Loughton said today.
Publishing the government's new vision for young people and youth services, Positive for Youth, the Minister called on every local authority to get young people involved in local decision-making.
The Government also wants local authorities to build stronger partnerships with voluntary organisations and local businesses to develop opportunities for young people in their local communities. Many businesses, such as Starbucks, 02 and the Co-operative are leading the way with innovative projects that are inspiring young people.
Positive for Youth brings together everything the Government is doing to support young people. It has been produced with youth professionals and young people themselves.
To build a society that is more Positive for Youth, the Government is:
Providing £320,000 to Business in the Community to build links between businesses and young people in their local areas.
Giving young people the chance to 'youth proof' government policy. A new national scrutiny group and youth select committee will monitor and advise on government policy.
Calling on all local authorities to give young people a voice in local decision-making. Local authorities should introduce programmes like youth mayors or youth inspectors to give youngsters a say. This could include: auditing local services such as youth clubs and leisure services to make them more youth-friendly.
Establishing four new Youth Innovation Zones to develop new, creative approaches to youth services across the country. The first four areas, Devon, Hammersmith and Fulham, Haringey, and Knowsley will each get £40,000 to set up the zones.
Publishing revised statutory guidance for consultation in the New Year on local authorities' duty to secure activities and services for young people.
Providing capital investment to complete 63 myplace centres by April 2013, and developing a national approach to exploit their potential to be led by communities and businesses.
Expanding National Citizen Service to offer 30,000 places to young people in 2012, 60,000 in 2013, and 90,000 in 2014.
Tim Loughton said:
For too long young people in this country have had a raw deal. The vast majority are law-abiding, want to do well at school and are making a positive contribution to their communities. More youngsters volunteer than any other group in society. We must recognise their achievements.

I want Positive for Youth to be a turning point in how we view and treat young people, and in how we think about youth services. In a tough economic climate, bringing in charities and businesses to help develop and provide youth services is the way forward. There are some superb projects run by organisations like British Youth Council, O2, Starbucks and the Co-operative, building links between young people and their local communities.

Councils should also think about how to get young people involved in decisions that affect them. I want them to open their doors to young people and get them involved - auditing and inspecting local services and listening to their ideas on how to improve things.
Raising young people's aspirations and educational attainment is crucial to their success in life. The Government has already announced in the Schools White Paper: The Importance of Teaching, significant reforms and investment to radically improve educational standards. The Government also set out last week a new strategy to increase young people's participation in learning and work, Building Engagement, Building Futures.
The Government will be measuring progress by local authorities, and central government, in delivering better, more targeted opportunities for young people.
Without creating new burdens on local authorities, the Government will publish annual data on positive and aspirational measures for young people.
The Government will also publish at the end of 2012 a 'one year on' progress update towards creating a society which is more positive for youth.
Kris Engskov, managing director of Starbucks UK & Ireland, said:
There are growing pressures facing youth today, but there are still many reasons to be optimistic about the large number of incredible young people with the ambition and enthusiasm to make a difference in their communities. They deserve our support and they deserve to be heard. That's why we're backing today's 'Positive for Youth' initiative and why we are giving funding and training to young people across the country through our Starbucks Youth Action Programme.
Ronan Dunne, Chief Executive Officer, Telefonica UK Ltd said:
We believe in young people. That is why we run O2 Think Big - a social action programme that provides funding, training and support for young people who are running projects across the UK to improve their local communities.

I am constantly struck by the desire of young people to contribute to society, to make a positive difference to the world around them. Thousands of our staff gets involved in their local Think Big projects and many of the young people we support spend time inside the company to learn more about our business and the world of work. Giving young people the support and opportunities they need to fulfil their potential is one of the biggest challenges facing the country. We welcome the Government's Positive for Youth initiative.
Peter Marks, Group Chief Executive of The Co-operative Group, said:
'Positive for Youth' represents an ambitious challenge for everyone - Government, business and society alike - to do what they can to motivate, support and inspire young people. It's a really tough time to be a young person in Britain and at The Co-operative we believe businesses have a real responsibility to help motivate and inspire young people by giving them new opportunities to gain the skills, knowledge and experiences to be pioneers for their generation.

A quarter of our employees at The Co-operative are under 25 and it is our vision to bring about a cultural shift in the way that young people are viewed and treated in this country. Over the last two years, our Truth about Youth programme has brought over 36,000 adults and young people together from seven UK cities to tackle the widespread negative perceptions of youth. In addition, through our Apprenticeship Academy and our Inspiring Young People campaign, we are offering young people new opportunities to change their world for the better. As a society, we must start talking up the young and see them as the solution rather than the problem. We are delighted to welcome the Minister to our Truth about Youth project at Oval House in South London today and we are committed to working in partnership with the Government to support young people and hope others will join us in being 'Positive for Youth'.
Liam Preston - Chair, British Youth Council, said:
To be 'positive for youth' is a great attitude and starting point for a journey of real improvement for young people through tough times. The policy 'Positive for Youth' is also a starting point and marks a commitment to make things better and I particularly like its promises to involve more young people along the way and to get them greater recognition for the positive part they play through the media.
The British Youth Council and UK Youth Parliament stand ready and willing to play their part but this will not only include championing greater recognition for success, but also holding decision makers to account if they let us down or if the promises don't deliver.
Anne Longfield OBE, Chief Executive of 4Children said:
This document is a clarion call to all of us to make young people a priority. The challenge now is for councils, teachers, youth workers, health professionals and the police to combine their expertise and resources to truly help young people flourish. We must invest in our young people's future.
Martina Milburn, chief executive of The Prince's Trust and co-chair of the Youth Action Group, said:
The Youth Action Group was established to focus and advise government on helping the most disadvantaged young people. We very much welcome the Positive for Youth statement by the government, which takes up many of our ideas and urges a change of mindset in attitudes to young people across government and broader society. We know that young people have huge potential and enthusiasm to contribute to society and it is great to see that government shares this perspective. The monitoring and outcome indicators will be a vital tool in ensuring this statement really makes an impact, particularly for the young people who are currently most marginalised. The Youth Action Group will play a key role in holding the government to account on this.
Notes to editors:
Positive for Youth has been developed in partnership with young people, the voluntary and community sector and businesses. It is available on the Department's website.

The Department is providing £850,000 for 2011-2013 to the British Youth Council, who will work in partnership with National Children's Bureau and UK Youth, to promote youth voice in local communities.

The Department has announced today that is providing £320,000 to Business in the Community until March 2013 to broker business engagement with young people.

The new measures of to be published annually on outcomes for young people are: * % of 16 to 18s reporting that they are satisfied with their lives; * % of 16 to 19s volunteering; * % of 16 and 17 year olds in education and work-based learning; * % of 18 year olds in education, employment or training; * % of young people aged 19 who have claimed free school meals achieving level 3 (to focus on improving their outcomes relative to others) * % of 19 year olds achieving Level 2; * % of 10 to 17 year olds who have not had any contact with the criminal justice system (as measured by a reprimand, warning or conviction); * % of 11 to 15 year olds misusing drugs and alcohol; and * conceptions per 1000 15 to 17 year olds.
DfE enquiries
Central newsdesk - for journalists 020 7783 8300
General enquiries - for members of the public 0370 000 2288
Published 19 December 2011