Press release
Government secures success in fisheries negotiations
Changes to the fishing quota system which sees end to automatic reductions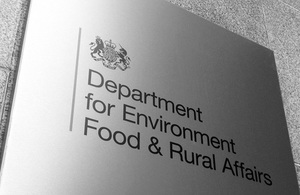 The UK Government has successfully stopped an automatic cut in quota for North Sea cod and the number of days that fishermen are allowed to spend at sea following negotiations in Brussels.
Fishermen were facing severe reductions to the amount of time they could spend at sea catching their quota as part of the Cod Recovery Plan. Additionally they were also facing automatic reductions in the amount of cod they could catch in the North Sea. The planned reductions would have threatened the livelihoods of UK fishermen and led to increased discards.
Following difficult negotiations in Brussels, the UK joined other Member States in agreeing to remove these unscientific automatic cuts and instead use the best available evidence to set quota levels and the amount of time fishermen can spend at sea.
Speaking from Brussels Fisheries Minister Richard Benyon said:
"I have been arguing for a long time that reducing the amount of time that fishermen have to catch their cod quota is bad for sustainability as it forces fishermen to catch closer to shore, often on spawning grounds.
"That is why this change is a major step forward as it will allow cod quota and the amount of time fishermen can spend at sea to be based on solid scientific evidence rather than an out of date plan.
"What we have negotiated today has removed the immediate threat of automatic reductions but we will continue to work with the EU Parliament to reform the broken Common Fisheries Policy."
Published 18 December 2012