Press release
Government secures skills boost for major infrastructure projects
Bidders for major government infrastructure projects will have to provide evidence of their commitment to developing skills.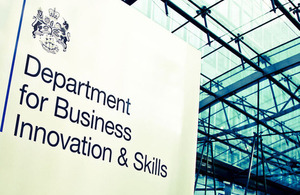 Bidders for major government infrastructure projects will have to provide evidence of their commitment to developing skills, it has been announced today (24 March 2015).
Contenders will be required to demonstrate their commitment to upskilling the current and future workforce in order to be considered for contracts. This will provide a vital boost to apprenticeship and training opportunities and help meet skills needs across the country.
HS2 LTD has welcomed the initiative and already signed up to incorporate the principles into their next bidding process.
Skills Minister Nick Boles said:
As economic growth continues it is vitally important that there is significant and meaningful investment in skills. Under these new plans, bidders for all major government projects will have to demonstrate a clear commitment to developing the skills of the current and future workforce.

Through apprenticeships and high quality training, this initiative will help make sure industry invests in the skills the country needs.

We are giving industry a role in defining what good company skills practice looks like and I have asked the Construction Leadership Council to help determine the types of behaviors government procurers should look for.
Lord Deighton, Commercial Secretary to the Treasury said:
This government was the first to set out a National Infrastructure Plan to provide clarity on the pipeline of investment in major infrastructure construction. Our next challenge is to address the immediate need to develop the skills necessary which will deliver this ambitious pipeline. That is why the government has committed to develop for the first time a National Infrastructure Plan for Skills.

This new approach to procurement will generate real and lasting change in the sector's investment in people, helping to avoid skills shortages.
The change will come into force from 1 April 2015 and will apply to all government projects with a capital value over £50 million. These requirements will be placed in contracts, monitored and may be used to inform future procurement decisions. Procurers will also be encouraged to introduce similar requirements, where appropriate, in lower value projects.
It is expected that more than 224,000 jobs in the construction industry will be created by 2019. This move will play an important role in ensuring the industry has the skilled workers it needs to meet demand and support growth, while supporting people to progress or begin their careers in key industries for growth including construction and engineering.
To enable firms to effectively demonstrate their skills performance to procurers, the Construction Leadership Council has been tasked with developing a clear definition of good company skills performance.
Notes to editors
The requirement will apply to projects with a value of more than £50 million and will be extended to contracts below this value when appropriate.
The approach will be captured in a Procurement Policy Note (PPN) issued by the Cabinet Office.
The National Infrastructure Plan sets out over £460 billion worth of public and private investment to the end of the decade and beyond across the key infrastructure sectors.
While the new requirements are aimed at government procurers, including executive agencies and other public bodies, it will be also be used to open dialogue on skills requirements in procurement decisions in the regulated, privately procured, parts of the infrastructure programme.
Published 24 March 2015