Government response
Government response to National Audit Office report into Strategic Flood risk management
National Audit Office conclusions on funding based on inappropriate comparisons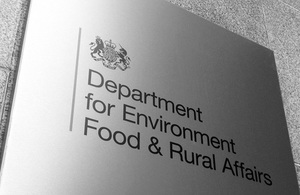 Today the National Audit Office has published its 2014 report on flood defence spending. It welcomes improvements in the way the Environment Agency is prioritising its spending, including on flood defence maintenance, and how it achieves value for money.
However, the report claims the underlying spending on flood defences has gone down.
On NAO's funding claims, Flooding Minister Dan Rogerson said:
The NAO has drawn conclusions on funding based on inappropriate comparisons. We have invested £3.2 billion in flood management and defences over the course of this parliament which is a real term increase and half a billion more than in the previous parliament. This has allowed us to protect 165,000 families and households in vulnerable areas.

‪Not only are we spending more than ever before, but we are also ensuring that our investment strategy will deliver long-term value for money. Next month, we will set out the first ever 6-year programme with record levels of investment, which will protect another 300,000 homes by the end of the decade.
Following one of the wettest winters on record we have worked side by side with EA to get our flood defences ready for this winter. We made £270 million available to repair any flood defences that were damaged last winter, to make sure they are ready to protect homes and businesses. Last month the Environment Agency met its deadline to restore flood protection in all areas affected by the winter floods.
The NAO compares two financial years (10/11 compared to either 13/14 or 14/15) rather than looking at the total amount we have spent over this Parliament. This Parliament will see a 5% real-term increase in flood spending, compared with the previous Parliament.
The NAO figures exclude £200 million of additional funding which was provided following the winter floods. Repairs are carried out after every flooding event, large or small, often funded from the Agency's existing budget. Previous years' spending therefore also includes costs relating to incident response and repairing damaged flood defences.
Published 5 November 2014