Government responds to comments on its 'Programme for Government'
The Government is publishing today its response to public comments on the Coalition's Programme for Government.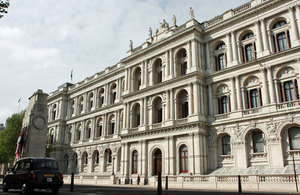 Areas of the Programme for Government (PFG) that attracted public interest included 'Europe' and 'Foreign Affairs', and the Foreign and Commonwealth Office is publishing responses to comments on these here:
We are grateful to those that offered their thoughts. Over 9,500 comments were published, showing a commitment by members of the public to shape debate around the Coalition's Programme.
The PFG was launched by the Prime Minister and Deputy Prime Minister on 20 May 2010. It sets out the Coalition's plans for a radical, reforming partnership government over the next five years.
To read responses to other areas of the PFG please visit the Programme for Government website.
Published 30 July 2010