Press release
Government renews focus on cities
The government today announced new support for cities in order to harness their potential to drive growth and prosperity.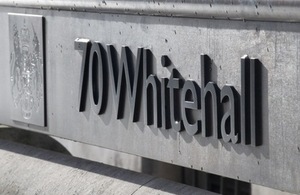 The government today announced new support for cities in order to harness their potential to drive growth and prosperity.
Cities are key to ensuring economic growth across the country, so it is vital to capitalise on opportunities and improve the way in which Government works with them. This will mean that government can maintain its crucial role in setting infrastructure and national policies, whilst cities can be free to work in ways that suit them.
The Prime Minister and Deputy Prime Minister have asked Greg Clark to take on the role of Minister for Cities in addition to his existing responsibilities. He will also become a Minister in the Department for Business, Innovation and Skills and will report directly to the Secretary of State for Business and Secretary of State for Communities.
The Deputy Prime Minister will chair a Ministerial Group including the Minister for Cities. The group will seek to develop new ideas for cities and consider the impact of existing policies. Lord John Shipley will also act as an adviser to government on cities policy, drawing on his extensive experience as the Leader of Newcastle City Council.
In recognition of the varied characteristics of cities, the intention is to combine a cross-cutting approach with work to look at cities on an individual basis. This will start initially by focusing on the Core Cities and their surrounding areas, with a view to expanding to a broader group and identifying issues relevant to a wide range of cities.
The Core Cities - enormously important for national prosperity and for their local and regional economies - are the eight largest cities outside of London:
Birmingham
Bristol
Leeds
Liverpool
Manchester
Newcastle
Nottingham
Sheffield 
The Deputy Prime Minister, Rt Hon Nick Clegg MP, said:
The Minister for Cities will champion the economic, social and environmental role of  cities. He will be the first point of contact in understanding the challenges and opportunities for cities in creating growth and prosperity across the country.

I look forward to working with Greg and the rest of the Ministerial Group on Cities to take forward this agenda, and identify solutions to support our city leaders in driving future development and prosperity.
Greg Clark, Minister for Cities, said:
I am thrilled to be appointed Minister for Cities. For Britain to be successful, Britain's cities need to be successful. Our cities generate well over half of our wealth and are home to the majority of our businesses and our leading universities. If our cities do well, the country does well. I am looking forward to working with the leaders of Britain's cities to ensure that the Government does everything possible to help urban Britain thrive.
Business Secretary Vince Cable said:
Britain's cities contain some of our most serious social problems, but also have the greatest potential for economic expansion. My department is working hard to unlock that growth potential. I am delighted Greg Clark is taking on this role to continue this focus on the opportunities in our cities.

We are already creating new Enterprise Zones and supporting the development of Local Enterprise Partnerships across England and I look forward to working with Greg on further development of our plans to secure long-term sustainable growth for the future.
Communities and Local Government Secretary Eric Pickles said:
If we want our cities to be able to compete on the global stage, then we have to start locally. That's why we're putting decisions on growth in the hands of the local leaders and businesses who understand their local economy - through Local Enterprise Partnerships and Enterprise Zones, and rewarding councils that support local firms and jobs by keeping their own business rates.

As Cities Minister, Greg Clark will take forward our work and unleash the potential that exists in our cities so they are engines of growth for the whole country, and become the best places in Europe to start and grow a business.
Notes to editors
Greg Clark will take on the responsibility as Minister for Cities immediately, in addition to his responsibilities as Minister for Decentralisation.  He will report jointly to the Secretary of State for Business, Innovation and Skills and the Secretary of State for Communities and Local Government in this new capacity.
Lord Shipley will advise the Minister for Cities and the Ministerial Group in an unpaid capacity.  As the former leader of Newcastle City Council between 2006 and 2010, he brings knowledge of the challenges and opportunities that exist within our cities.
The Core Cities group consists of  the eight largest English cities excluding London. Research commissioned by the Core Cities group states that the cities and their hinterlands account for 27% of England's wealth generation, and are home to more than a third of England's population.
This change relates only to English cities.  However, where appropriate, we expect to make links with the Devolved Administrations to ensure all UK cities have the opportunities to thrive.
Published 19 July 2011