Press release
Government removes 'volunteering tax' on councillors
New proposals to cut councillors' data protection fees red tape.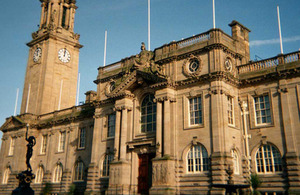 The government announced today (3 July 2013) that individual councillors' data protection registration fees can be paid by their council. Local Government Secretary Eric Pickles will outline plans to cut red tape in his speech to the Local Government Association's annual conference.
The current payment arrangements are cumbersome and confusing. Many councillors individually pay a £35 annual fee (or £140 over a 4 year term) to the Information Commissioner's Office to register as data controllers in order to undertake constituency casework. This is an inefficient way for councillors to meet their commitment to safeguarding residents' personal data.
Instead, the government is proposing that councils can make a single registration payment on behalf of all their councillors to cover their casework and council membership. This will cut large amounts of paperwork, and reduce the number of payments to a few hundred rather than the 6 and half thousand individual payments as is currently the case.
It is also being proposed that parish and town councillors be exempted entirely from the data protection notification requirement (and, therefore, the need to pay fees).
Eric Pickles, Secretary of State for Local Government, said:
Clearly, councils and councillors need to protect their residents' personal data. But this has become a tax on community volunteering.

Councillors shouldn't have to pay £140 over their term of office simply to be allowed to reply to their constituents' letters and champion local issues.

This common sense solution is a significant step forward that will reduce red tape on local councillors who are simply trying to do a good job for their residents.
Lord McNally, Justice Minister responsible for data protection said:
I have always believed that data protection is most effective when its implementation is proportionate and easily complied with. This model provides for easy compliance whilst reminding those in local government of their responsibilities in this area.
Notes to editors
The new approach, agreed with the Ministry of Justice, will retain an annual notification requirement for individual councillors, and hence an annual reminder for councillors of their duty to comply with the Data Protection Act.
The government will now consult informally with the Local Government Association, the National Association of Local Councils and with the Information Commissioner on the single fee model and on exemption of parish and town councillors from data registration altogether.
The changes proposed will also make sure there is no negative financial impact on the Information Commissioner. The political party registration will remain unaffected.
Published 3 July 2013