Press release
Government removes barriers to radio stations going digital
Hundreds of small radio stations across the UK are to receive a helping hand to broadcast in digital for the first time.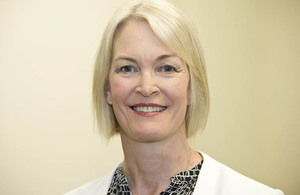 In new measures announced today, the Government will make it easier for smaller community and commercial radio stations to broadcast on small scale digital radio multiplexes.
With more than 50% of all radio listening in the UK now on digital, the new lighter touch licensing regime means these small stations won't be left behind by the growing shift from FM and AM to digital radio and will give more choice to millions of radio listeners across the UK.
Margot James, Minister for Digital and the Creative Industries, said:
We are breaking down one of the main barriers in the transition of radio from analogue to digital, to secure long-term benefits for the UK's smaller commercial and community stations and ensure a range of local content for listeners.

No one should be left behind by technological advances, so as part of our modern Industrial Strategy we will give small and local radio businesses affordable, practical access to digital radio networks to reach new and longstanding audiences.
The roll out of small scale multiplexes across the UK could help more than 450 existing small community or commercial radio stations go digital.
Since 2014, Ofcom have been supporting successful trials of small scale radio multiplexes in ten areas of the UK. These trial multiplexes now carry around 160 small radio services offering listeners in these areas a broader range of content and formats.
To put these small scale services on a proper long-term footing, the Government is revising the current legal framework for licensing radio multiplexes - originally drawn up in the mid-1990s.
The new framework will allow Ofcom to reserve capacity on new small scale multiplexes for community stations, helping them to go live on the Digital Audio Broadcast (DAB) platform.
Ford Ennals, CEO, Digital Radio UK, said:
We welcome today's announcement from DCMS supporting the future development and expansion of small-scale DAB. This is good news for radio and good news for listeners as the expansion of small-scale DAB gives listeners a wider range of smaller stations available on DAB and gives small local stations a path to a digital future.

Following the success of the fantastic range of unique and fresh local commercial and community services in the 10 trial areas we can expect to see many hundreds of local stations joining radio's digital revolution across the UK.
Switch Radio is a community radio station that operates and broadcasts one of the trial multiplexes in Birmingham.
Dean Kavanagh, Head of Content and Technology at Switch Radio, said
Switch Radio welcomes the publication of the DCMS consultation response document. Small Scale DAB is a game-changing innovation that will drive real benefits for listeners and we are delighted that the government is actively supporting the progression of this technology from concept to delivery.

Small scale DAB has been able to provide not just an increase in the quantity of stations that listeners can receive, but also the variety of what is available. We look forward to the further developments that will undoubtedly stem from the publication of this consultation response.
This new streamlined structure for licensing small scale radio multiplexes comes at a time when DAB has greatly increased in popularity. Almost two-thirds of households have a DAB radio and only 43% of listening at home is on analogue. DAB coverage now reaches 90% of the UK.
The proposals will support the rollout of new digital-only radio networks within county areas, helping to expand the community radio sector. The Government will bring forward secondary legislation to make the necessary changes to the licensing regime in 2019.
ENDS
Notes to Editors:
A small scale DAB radio multiplex is a more efficient way of transmitting compared to analogue and uses a low cost software-based approach that makes it particularly suitable for smaller radio stations. A multiplex consists of a number of DAB radio stations bundled together to be transmitted digitally on a single frequency to a specific geographic area.
Among the measures set out today in its response to the Small Scale DAB Licensing Consultation, the Government has stated it will: * Create a new category of small scale DAB multiplex licence for community radio stations - the C-DSP (Community - Digital Sound Programme) licence; * Place requirements on new small scale multiplex licences to make a certain proportion of capacity on small scale DAB multiplexes available to community radio stations holding new C-DSP licences.
DCMS-funded technical work by Ofcom to test the technology, including 10 field trials in Portsmouth, Aldershot, Brighton & Hove, Bristol , Norfolk, Manchester, Birmingham, Cambridge, Glasgow and London. These demonstrated the viability of using an open source software based approach to broadcasting on DAB at a small scale.
However, the temporary licensing arrangements for the 10 trials are not a suitable basis for the long-term licensing of small scale DAB radio multiplexes. To address this DCMS supported the successful passage of a Private Member's Bill, introduced by Kevin Foster MP, through Parliament in early 2017. The Broadcasting (Radio Multiplex Services) Act 2017 gives the DCMS Secretary of State a power to modify through secondary legislation the provisions under existing broadcasting legislation that are concerned with the award of radio multiplex licences.
In its Communications Market Report 2018, Ofcom found:
Nine in ten adults in the UK listen to radio every week for an average of nearly 21 hours a week, and 75% of all audio listening is to live radio;
DAB coverage is now at 90% of the UK (BBC national DAB coverage is 97%), and almost two-thirds of households have a DAB set;
Digital radio has enabled many more commercial stations to broadcast nationally, and the share of listening to national commercial stations has increased from 13.0% in Q1 2016 to 17.5% in Q1 2018. As a result of this, radio advertising revenues increased by 1% in real terms in 2017, compared to a 7.5% decline in television advertising revenues.
In its Media Nations 2018 report, Ofcom found:
The total reported income for the community radio sector in 2017 was £11.9m, in line with 2016. Average station income was just under £51k;

Overall reported sector expenditure for the community radio sector was £11.9m, up 1% in real terms since 2016;

At home, only 43% of listening is on analogue, as DAB increases in popularity;

Listeners in Berkshire have the highest proportion of listening digitally, at 60%
Published 13 October 2018