Press release
Government raises £1 billion for public purse by exiting unused assets
Government has raised over £1 billion for the taxpayer since May 2010 by selling property and land no longer required by the Civil Service.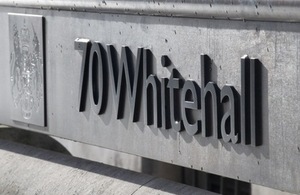 CAB 029-13
Cabinet Office Minister Francis Maude today announced that government departments have raised over £1 billion for the taxpayer since May 2010 by selling property and land no longer required by the Civil Service. On top of this the government has exited over 1,000 leasehold and PFI properties, saving a further £168m in the first 6 months of 2012/13 financial year alone, by ensuring the government is not paying rent and running costs on space that it doesn't use or need.
Francis Maude said:
It's remarkable that the government was paying for property that it just wasn't using. That kind of waste is always unacceptable – but is completely unjustifiable when we are trying to reduce the deficit and get ahead in the global race.
In the past Government took out expensive leases at the taxpayer's expense on new properties even though freehold space was under-used or even empty. Our strategy is to get out of expensive leases and concentrate on the properties we actually own. Since the General Election we have slashed wasteful spend on buildings and negotiated great money making deals. The £1 billion pounds we have saved the taxpayer represents £60 for every working family.
Now we have reached this milestone, we will push ahead with a new phase of cross-government work to encourage all officials to work more flexibly to reduce our dependency on expensive public sector buildings and save the taxpayer even more.
The work to achieve this figure was centrally coordinated by the Government Property Unit, part of the Cabinet Office's Efficiency & Reform Group. They worked together with professionals from across government departments to ensure the best deal for the taxpayer.
The next stage of property rationalisation within government is a workplace transformation programme – an integral part of the Civil Service Reform Plan. Innovations such as the introduction of touchdown hubs, like those used during the London Olympics, will improve workplaces and IT making it easier for civil servants to do their job. Co-location buildings that can be shared by teams from multiple departments and public sector bodies, like Temple Quay House in Bristol, will build a more modern and unified Civil Service, able to deliver exceptional public services.
Alongside saving the government and the taxpayer money, many of the once empty properties benefit from a new lease of life through investment. Last month, a study by Knight Frank showed that 14 properties in London exited after May 2010 by the government are delivering over £3bn of stimulus to the local economy.
The £1bn milestone was reached by the sale of St Dunstan's House in central London, which was previously used by the Ministry of Justice civil servants. It has been bought by Taylor Wimpey Central London, the dedicated central London division of the UK residential developer Taylor Wimpey plc, who has already begun the development of 76 residential apartments on the site.
Peter Truscott, Divisional Chairman of Taylor Wimpey said:
We are constantly looking for attractive development opportunities that meet our strict evaluation criteria and enable us to deliver much needed new homes. We believe that St Dunstan's Court, Fetter Lane will prove to be a successful development for our customers and Taylor Wimpey.
Notes to editors
The Cabinet Office has released a spreadsheet containing the details of all the sales that make up the £1bn figure.
Civil Estate – Rationalisation Impact, an independent analysis prepared by Frank Knight LLP, is available on the Knight Frank website.
The Civil Service Reform Plan, published by the government last June, sets out a series of actions designed to facilitate better working across departments, including exploiting new technologies and office designs that enable staff to do their work at anytime and anywhere.
The Government Property Unit has recorded savings on annual running costs from early exits from leasehold or disposals of freehold property: £91milion in 2010/11, £198million in 2011/12 and £168million in first 6 months of 2012/13.
The freehold site on Fetter Lane covers an area of just over half an acre and the development will consist of49,342 square feet of private residential accommodation over eight floors; including 52 one bedroom and 24 two bedroom apartments. The development will also feature a concierge entrance hall and exclusive club facilities. For further information please visit www.taylorwimpeycentrallondon.com or contact TTA Property on 020 7861 2040.
Published 13 March 2013