Press release
Government puts small business at the heart of the economy
Small businesses throughout the country are at the heart of government's long term economic plan.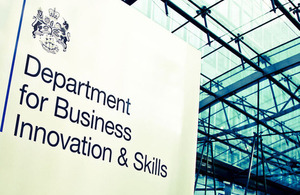 Small businesses throughout the country are at the heart of government's long term economic plan, Skills and Enterprise Minister Matthew Hancock will tell the Federation of Small Businesses (FSB) today (28 March 2014).
Addressing the 40th annual FSB conference in Manchester, Minister Hancock will set out the steps the government is taking to link small and medium sized businesses with the development of policy.
The measures he will outline complement and support the growing confidence highlighted in the FSB members' survey this year, which shows that more companies have aspirations to grow and expand than at any time in the past 2 years.
The Minister will announce:
the opening of the recruitment process for 2 new Entrepreneurs in Residence, who will work closely with the Department for Business, Innovation and Skills (BIS)
twenty business schools which will become trailblazers in establishing the Small Business Charter
a £1 million education technology design competition for small businesses with innovative ideas who want to see them become a reality
Skills and Enterprise Minister Matthew Hancock said:
Small businesses are the lifeblood of our economy and with 2 thirds preparing to expand it is our desire to make sure they have everything they need to thrive. Small businesses should influence and inform government on what advice and support works best for them, so I'm pleased to be able to announce further measures that allow them to provide their input.

In launching our search for 2 new Entrepreneurs in Residence, we are asking for business people to tell us what more we can do, and I hope the programme proves to be as popular as it was last time.

It is an essential part of our long term economic plan that businesses are given the right environment to achieve their lofty ambitions.
John Allan, National Chairman, Federation of Small Businesses said:
The FSB welcomes this ongoing focus on small businesses at the heart of government, and especially efforts to sharpen up the support offered to them. Maximising the expertise business schools offer can only enhance growth prospects for small firms, and the development of growth hubs should provide a much clearer signposting of the wide range of support there is available.
The Minister will also use his speech to;
welcome the launch of a growth hub in the South East Midlands, which will nurture small business in the region
credit the success of the government's Start Up Loan programme, which has offered 15,000 loans worth more than £80 million to aspiring business people
The Entrepreneurs in Residence will spend a year working closely with BIS helping officials to design and guide policy that will benefit small businesses. This year BIS is searching for an entrepreneur who can help us to help scale-up businesses; and also an entrepreneur who can help the UK develop a new industry from the emerging new science of synthetic biology.
The main aim of the Small Business Charter is making business schools 'anchor institutions' in the local business landscape. The Association of Business Schools is leading the implementation, with a Board chaired by Sir Peter Bonfield that includes business school and small business representatives. The Small Business Charter plans to recognise business schools that support small businesses by allowing them to hold a Charter Award if they meet the robust criteria that show they prioritise the needs of small firms.
The Technology Strategy Board (TSB) competition, which promises the winning company £1 million in funding will also help in giving them access to expertise and equipment that will help them develop their product.
The minister will use his speech to launch further support that will help to provide an environment that engenders growth for small business throughout the country, which was included in Small Business: GREAT Ambition – the government's commitment to make it easier for small firms to get on.
Notes to editors.
BIS is a champion of small business. Small businesses are the lifeblood of our country – a necessity for building a resilient, sustainable economy. During last year's Small Business Saturday BIS published Small Business: GREAT Ambition – a commitment to make it easier for small businesses to grow.

Entrepreneurs interested in applying for 1 of the Entrepreneurs in Residence roles, can find more information here: www.bisappointments.com

Growth hubs are being designed to improve coordination of support provided by local public and private sector partners, creating a streamlined and coherent offer for businesses based around local need. Business support at the local level will be brought together through growth hubs. These are single places that businesses can go to get help. Growth hubs are already in place in Cumbria www.cumbriagrowthhub.co.uk, Wiltshire www.wiltshirebusinesshub.co.uk, Northamptonshire www.northamptonshiregrowthhub.co.uk and Buckinghamshire www.bbf.uk.com as well as Manchester www.businessgrowthhub.com and 1 for the south east Midlands area www.velocitygrowthhub.com.

The Start Up Loans Company is a government funded scheme that provides seed capital and mentors for aspiring businesses. It has recently been expanded to deliver business support across the UK to entrepreneurs of all ages. http://www.startuploans.co.uk/

Industrial strategy sees government work in partnership with business as part of a united approach to create jobs and economic growth for the long term. It is a vital part of our efforts to ensure that we succeed in the global race.

The government's economic policy objective is to achieve 'strong, sustainable and balanced growth that is more evenly shared across the country and between industries'. It set 4 ambitions in the 'Plan for Growth', published at Budget 2011:
to create the most competitive tax system in the G20
to make the UK the best place in Europe to start, finance and grow a business
to encourage investment and exports as a route to a more balanced economy
to create a more educated workforce that is the most flexible in Europe
Work is underway across government to achieve these ambitions, including progress on more than 250 measures as part of the Growth Review. Developing an Industrial Strategy gives new impetus to this work by providing businesses, investors and the public with more clarity about the long-term direction in which the government wants the economy to travel.
Published 28 March 2014