Government publishes review of National Action Plan on women, peace and security
The Government has published a review of the National Action plan on UN Security Council Resolution 1325 Women, Peace and Security.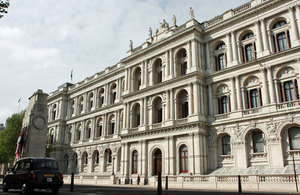 In a written statement to Parliament, Foreign Office Minister Henry Bellingham said:
"This Government published a revised National Action Plan (NAP) on UNSCR 1325 Women, Peace and Security on 25 November 2010 and the annual review focuses on the commitments that the Government has taken forward since that time.
We are grateful to the Associate Parliamentary Group on Women, Peace and Security (APG WPS) and the civil society umbrella organisation Gender Action on Peace and Security (GAPS) for the regular and ongoing consultations that take place about the NAP. Officials will attend a meeting with the Associate Parliamentary Group and GAPS on 31 October to discuss this review.
This government intends to produce a revised NAP at the start of 2012 taking into account the recommendations we receive from APG WPS and GAPS. A full evaluation of the NAP is scheduled to take place in 2013."
Published 26 October 2011