Government publishes National Security Strategy
Counter terrorism, cyber security, international military crisis and national disasters have been set as priorities in the National Security Strategy published today.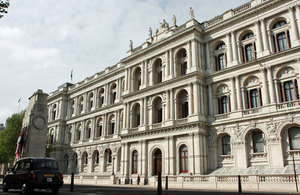 The Strategy, titled "A Strong Britain in an Age of Uncertainty", is informed by a full assessment of the risks to our security. It identifies 15 priority risk types, the most pressing of which are:
acts of terrorism affecting the UK or its interests
hostile attacks upon UK Cyber Space
a major accident or natural hazard (e.g. influenza pandemic)
an international military crisis between states, drawing in the UK and allies Foreign Secretary William Hague said:
"The Government is determined to maintain Britain's security, prosperity and influence in the world. The National Security Strategy sets out how we will achieve this, using all the instruments of our national power to protect our citizens, prevent conflict and seek out opportunities for Britain."
"The Foreign and Commonwealth Office has a clear role in using agile and energetic diplomacy to protect our country's interests, building new connections for Britain in a networked world, and leading foreign policy thinking across government.
"The National Security Strategy shows how our security and prosperity are interlinked. The networks we use to build our prosperity we will also use to strengthen our security, forging a distinctive British approach to foreign policy and pursuing it consistently over time."
In a Written Ministerial Statement today, the Prime Minister said:
"The United Kingdom faces a complex array of threats from a myriad of sources. The National Security Strategy describes the strategic context within which these threats arise and how they may develop in the future."
The National Security Strategy and the Strategic Defence and Security Review, to be published tomorrow, mark a step-change in the UK's ability to protect its security and advance its interests in the world.
Read the National Security Strategy: "A Strong Britain in an Age of Uncertainty"
Published 18 October 2010