Government publishes criminal court guidance for defendants
A how-to guide designed to make the criminal court process more accessible and understandable for all has been produced by the Ministry of Justice.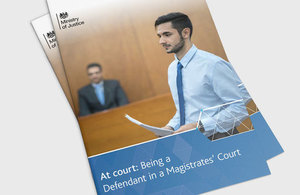 Clear guidance will make the court process understandable for defendants
Government delivers on a key pledge to support court users
Guide cuts through legal jargon and simplifies the court process
The four-part guide is designed to be understood by all defendants, including those with low literacy levels, and will be available online and in courts. These unpick complicated legal-talk; flag available legal advice; explain Crown and magistrates' court processes; and give advice on practicalities such as childcare.
The move comes as reports¹ found that lay users often go to court without a sufficient understanding of what to expect from the process, which can cause delays and restrict access to justice. We therefore hope that this work will also make the courts more efficient for victims and witnesses.
Justice Minister, Chris Philp, said:
Going to court can be a confusing and daunting experience for defendants.

This guidance gives practical, understandable advice for defendants throughout their journey, ensuring that people are given the help they need to understand criminal justice processes and the consequences of their own decisions, as well as those made by the court.

This work complements that of our wider Legal Support Action Plan, which is boosting legal support for those going through the court system and improving access to justice.
JUSTICE, said:
Going to court can be an unnerving and stressful experience. We are delighted that the Ministry of Justice has accepted the recommendations in our report, Understanding Courts, and produced these leaflets clearly explaining what defendants can expect during the process.

Helping people to understand court proceedings will address some of that anxiety and we hope similar information will be available for different types of court users in the future.
Notes to editors:
In JUSTICE's Report 'Understanding Courts', it was noted that lay users often go to court without a sufficient understanding of what to expect from the process. It recommended that the Ministry of Justice should produce practical information about what to expect from the process.
Our full Legal Support Action Plan, which focuses on Civil and Family proceedings.
For any further questions, please contact the newsdesk on 0203 334 3536
Published 10 October 2019