Press release
Government Property Unit appointment: Ian Playford
Ian Playford has been appointed interim CEO of a new central body within the Government Property Unit.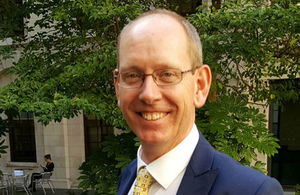 The new body, announced in the Budget 2015, will own and manage relevant property and land assets, as well as leasehold assets where appropriate. The body will work under a cross-government framework with direction provided by the Treasury and the Cabinet Office.
Ian joins as interim CEO with 25 years of international real estate experience and has been qualified as a Chartered Surveyor since 1992. He recently held a portfolio of roles including Non-Executive Director for HM Courts and Tribunal Service (HMCTS) and Real Estate Advisor for the Aspen Insurance Group. He is also Board Advisor at Kingsbridge Estates Ltd.
Ian brings with him a wealth of experience in the field of corporate real estate and investment management. His most recent executive role was as the new Group Property Director for Kingfisher and he has previously held senior executive roles at Parkridge Holdings, Aviva and Jones Lang La Salle.
Ian will work with an interim executive team, which comprises Stephen Sheridan as Finance Director, Roger Taylor as Operations Director and Colin Turner as Strategy and Clients Director.
Together with the interim executive team, Ian will work collaboratively with Liz Peace, who has been appointed Shadow Chair of the body, to agree its implementation.
Published 11 November 2016