Government plans final steps to cancel backdated ports 'tax'
Cancelling the backdated business rate payments on businesses within ports.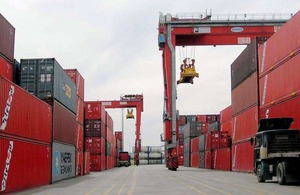 The proposed legal changes that will cancel the unfair, retrospective business rate payments on businesses, including those affected within ports, were published on the 14 June 2011, Local Government Minister Bob Neill has announced.
Many port-based companies faced backdated bills reaching into the millions after the Valuation Office Agency undertook a review of the rating of business properties within ports in 2008.
Today's publication of draft regulations set forth the government's longheld commitment to find a permanent solution for businesses hit with these unexpected and significant backdated rates.
Ministers suspended collection of the retrospective business rate demands last year through emergency regulation, to give a lifeline to struggling firms in a difficult economic climate.
The draft regulations and guidance is to be made under the Localism Bill, which is currently progressing through Parliament. When the Bill is passed the final regulations will come into effect, permanently cancelling the backdated business rates liabilities altogether and lift the burden of debt off these businesses.
All eligible businesses across England faced with a similar backdated rates liability will benefit and not just businesses within ports.
Local Government Minister Bob Neill said:
"From day one, the Coalition government has been committed to revoking the ports tax - these unfair backdated rates bills threatened the solvency of many port-based businesses across England.
"We've already suspended collection of any of these unjust bills and the regulations published today lay out our permanent solution.
"Once the Localism Bill receives Royal Assent, we can make the final regulation so that this heavy debt burden will finally be removed from the port businesses shoulders altogether, safeguarding vital jobs and businesses."
The draft regulations and guidance published today set out who will qualify for the cancellation and how it will be implemented giving interested parties the opportunity to make any comments to ensure that the final version will fully implement the cancellation policy.
The cancellation policy will ensure local authorities can automatically cancel the qualifying backdated bills they are already aware of. Business Rate Demand Notices for 2012 to 2013 will also include information on the cancellation so that ratepayers can contact their council if they believe they are eligible.
Published 15 June 2011