Government launches new environment and climate fund for the UK's Overseas Territories
Foreign Office Minister Mark Simmonds has welcomed the launch of the new Overseas Territories Environment and Climate Fund.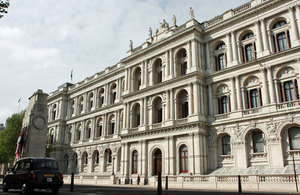 The new Fund, which brings together funds from the Foreign and Commonwealth Office, Department for Environment, Food and Rural Affairs, and Department for International Development, will disburse around £2 million per year dedicated to environmental and conservation projects in the UK's Overseas Territories.
The Overseas Territories are home to many species and environments found nowhere else in the world - including an estimated 90% of the biodiversity found within the UK and Overseas Territories combined. The unique environmental wealth of the Overseas Territories was highlighted in the recent UK Government White Paper on the Overseas Territories.
In welcoming the new Fund, Foreign Office Minister Mark Simmonds said:
"This is an excellent example of how we are meeting our White Paper commitment to provide co-ordinated Government support to the Overseas Territories and a signal of how important we consider the environments of the Overseas Territories to be. I have high hopes that this Fund will lead to many innovative and creative projects which will result in better sustainable environmental management in the Overseas Territories"
Following the announcement on the creation of the new Fund, Dr Tim Stowe, the RSPB's International Director, said:
"This is excellent news for Britain's albatrosses, iguanas, whales, and elephant seals, and is a welcome announcement alongside the Government's recently announced action plan for Overseas Territories biodiversity."
The new Fund provides a simpler and more co-ordinated funding mechanism and will support a range of environment and climate-related issues to ensure long-term sustainable natural resource management in the Overseas Territories.
The Fund was launched today to coincide with the 11th meeting of the Conference of the Parties to the Convention on Biological Diversity in Hyderabad, India.
Further information on the Fund, including details of how to apply, can be found on the Defra website.
Published 17 October 2012