Government launches new crackdown on passport fraud
Students and young people are being urged to leave their passports at home when socialising on nights out in a new drive to prevent identity fraud.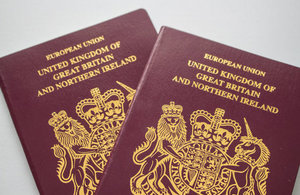 Those who use the highly valuable travel document as a form of age identification at bars and clubs are at risk of it being lost or stolen and potentially falling into the hands of criminals.
Her Majesty's Passport Office, has today (21 December) launched a national campaign to tackle the issue and is encouraging students and any young person who uses a passport for age verification to use alternative identification methods.
These include PASS, the UK national proof of age accreditation scheme which issues a photo identification card.
Immigration Minister Robert Goodwill said:
Young people face a higher risk of losing their passport as they often use it as a form of age verification.

A passport is a highly valuable document. If it gets lost or stolen, not only does it cost the holder money to replace it, but it can fall into the hands of criminals unless it is handed in and cancelled.

We are working with a number of stakeholders including retailers, licensed premises, police, local authorities and students, to communicate that there are better ways to prove your age, such as the PASS card.
The Home Office endorsed PASS scheme is funded by trade organisations including the Association of Licensed Multiple Retailers and the British Beer and Pub Association.
HM Passport Office is also asking anyone who comes into contact with a lost passport to immediately return it to its freepost address so that it can be cancelled.
The campaign will include posters, letters to key stakeholders, as well as a social media drive to raise awareness of the issue.
For cheaper ways to prove your age, visit www.pass-scheme.org.uk.
If you find a passport, please return it immediately to: Freepost HM Passport Office.
You must cancel a lost or stolen passport as soon as possible.
Published 21 December 2016