News story
Government kicks off talks on future of tax regime for oil and gas industry
Oil and Gas industry meet with Financial Secretary to discuss future tax treatment.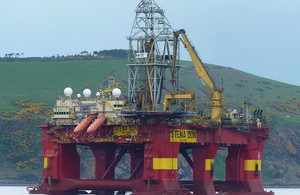 Financial Secretary to the Treasury Nicky Morgan will today (20 May 2014) meet the heads of the oil and gas industry in Aberdeen for the first time since the Budget, when it was announced that there would be a review into the tax treatment of the industry.
This fiscal forum will outline the scope and objectives of the review of the fiscal regime, which will look at the longer term tax treatment of the industry, including field allowances and how best to use the tax regime to incentivise investment. Heads of industry are invited to set out their priorities for how the remaining resources can best be exploited. The review will report its initial findings at the Autumn Statement.
The fiscal review follows an announcement at Budget 2104 of the introduction of a new allowance for ultra high pressure, high temperature projects. The allowance will reduce the tax rate on a portion of a company's profits from 62% to 30%. For every £1 billion spent, companies will get at least £200 million in tax relief. This is already expected to incentivise £6 billion of investment.
As part of the wider UK economy, the industry can maximise the exploration of our oil and gas reserves. The broad and diverse UK tax base means we are able to support the industry through, for example, certainty over decommissioning tax relief. An independent Scotland would have to invest around £3,800 per head – over ten times more than when costs are spread across the UK - to match the £20 billion the UK government has committed towards decommissioning in the North Sea.
Speaking before the fiscal forum, Financial Secretary to the Treasury Nicky Morgan said:
The government is committed to supporting investment in the oil and gas industry, a vital sector that provides jobs and growth across the United Kingdom.

Today's fiscal forum will be a positive start to the review of the fiscal regime for oil and gas, and I look forward to working with the sector on the long term future for the industry.
While in Aberdeen, the Financial Secretary will also visit the Glen Garioch distillery, to discuss the budget announcement to freeze duties on spirits, and the Aberdeen harbour, to discuss the impact of increased oil and gas investment on the harbour.
Photo by Cradlehall on Flickr, used under Creative Commons.
Published 20 May 2014