Press release
Government / industry partnership to boost construction exports
New service launched by Greg Hands to help UK construction companies secure billions in new contracts abroad.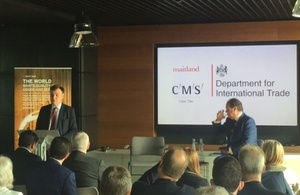 The Department for International Trade will join with 17 of the UK's leading firms from the infrastructure industry in a new partnership to help UK companies secure major international contracts.
Infrastructure Exports: UK (IE:UK) will bring together companies of all sizes to bid for global infrastructure contracts as a single 'Team UK' consortia, to deliver complex projects by combining their expertise.
Launched today, the new body will be co-chaired by International Trade Minister, Greg Hands, and James Wates CBE, Chairman of the Wates Group. It aims to make the UK more competitive on the global stage and bring smaller companies into the infrastructure export supply chain.
International Trade Minister Greg Hands said:
Global infrastructure investment is set to increase rapidly in the coming years and we must make sure UK firms are in prime position to take advantage of it.

Our 'Team UK' approach will bring together leading UK infrastructure companies to showcase their expertise on a global scale and work together to successfully bid for the biggest contracts.
IE:UK
Companies from across the UK, including Midlands-based Carillion, Mace Group, and Northern Ireland's Lagan Construction will make up IE:UK, representing around 200,000 employees from across the UK. Members have experience of working on large scale projects such as Crossrail, the Dubai World Expo 2020 and ITER Fusion Reactor in France.
By 2030, global annual construction investment alone is expected to grow by 85% to $15.5 trillion, almost the size of the US economy, and with research showing that large infrastructure projects award bigger contracts to consortia, this will increase the competitiveness and income of UK companies.
IE:UK will meet 3 times a year to choose which projects they, as business, wish to pursue with government support. The body will select the UK businesses with the right expertise to group together and create winning bids.
James Wates CBE, Chairman of Wates Group said:
This is a timely, fresh and strategic approach. The UK has a wealth of expertise in developing major infrastructure projects.

This is a great opportunity for business to work together, alongside the Government, to target overseas projects, as many countries around the world plan to develop their physical infrastructure to support their own economic growth.
Supporting construction exports
IE:UK will also build on the Department for International Trade's existing work to boost UK infrastructure exports. In March, Greg Hands led a delegation of 15 UK firms to Argentina and Brazil where $12 billion is being invested in infrastructure projects in the region, projects that the IE:UK will look to target.
The UK's export credit agency, UKEF, has also provided financing enabling UK firms to secure major contracts worth hundreds of millions, such as $285 million in support for Carillion's contracts to deliver the first 2 phases of Dubai's World Trade Centre. UKEF has also brokered recent infrastructure deals in Africa as the UK takes advantage of the opportunities in new and developing markets.
Building contacts abroad
Board member British Expertise International will also link the IE:UK to its own network of 25 trade bodies which it supports to operate abroad, reaching 14,000 businesses including SME's. The Department for International Trade will also support with its network of local staff in 109 markets across 53 countries – who will identify key projects in their areas for the IE:UK to consider and potentially create consortia of UK companies to bid for contracts.
Notes to editors
The IE:UK is made up of leading infrastructure sector companies such as Carillion as well as supply chain firms like JCB and architects and services firms like KPMG.

IE:UK members will select the projects it will support bids for, and form the groups to deliver these bids, identifying companies which will be able to work together effectively and deliver all the required elements of a project, such as design, project management and construction.

The members of IE:UK will be:
Co-Chair, Rt Hon Greg Hands, Minister of State and Minister for London, Department for International Trade
Co-Chair, James Wates CBE, Chairman, Wates Group Ltd.
Sir John Armitt CBE, Chairman, City and Guilds Group
Sir Terry Morgan CBE, Chairman, Crossrail Ltd
Shaun Carter, Group Development and Strategy Director, Carillion plc
Andrew McNaughton, Directoire, Chief Operating Officer, Systra
Philip Bouverat, Director, JCB
Nick Roberts, Chief Executive Officer, UK & Europe, Atkins
Martin Bellamy, Executive Director, BAM Nuttall
Mark Holmes, Chief Operating Officer, Consultancy, Mace
Tracey Smith, Chief Executive, British Expertise International
Graham Cartledge CBE, Chairman, Benoy
James Stewart, Chairman, Global Infrastructure, KPMG
Gordon Turley, Major Projects Director, Mott MacDonald
Freddie Patterson, Business Development Director, Lagan Construction Group
Peter Chamley, Global Infrastructure Lead, Arup
Stuart Senior, Main Board, Gleeds
Dean Purvis, Director, Infrastructure, Turner & Townsend
Brian Gallagher, CEO, Infrastructure, Department for International Trade
UK Export Finance (UKEF)
UK Export Finance is the UK's export credit agency, working as part of the Department for International Trade.
It exists to ensure that no viable UK export should fail for want of finance or insurance from the private market. It provides finance and insurance to help exporters win, fulfil and ensure they get paid for export contracts. UKEF's credit risk appetite was doubled in the Autumn Statement to £5 billion, allowing it to support more and bigger contracts around the world where there is a benefit for the UK.
Published 5 July 2017