Press release
Government gives Grandparents more credit
Grandparents who give up work to look after their grandchildren will no longer lose out on their basic State Pension.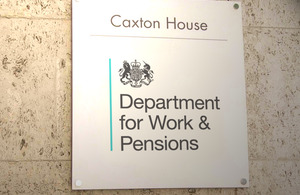 Grandparents who give up work to look after their grandchildren will no longer lose out on their basic State Pension thanks to Government action.
Working age grandparents could be missing out on retirement money when they stop working before building up enough National Insurance credits to get a full basic State Pension. On average people become grandparents for the first time at age 49 - a contrast to the commonly held perception that all grandparents are pensioners - and often give up work to provide childcare to a grandchild.
Today, the Minister for Pensions Steve Webb launched a consultation on changes to National Insurance credits including how they will be awarded to grandparents.
He said:
I have supported the idea of a Grandparents' Credit for many years. For too long the vital child-care that grandparents provide so that parents can work has been overlooked by the system.

It is about time that we protect the pension rights of grandparents, many who are in their early 50s and giving up work early to provide vital child-care.

Parents of children under 12 and carers receive a credit towards their basic State Pension so it makes sense to extend this to grandparents of working age too.
The credit will be added to an individual's National Insurance contributions record and count towards their basic State Pension. From April 2010, thirty years of National Insurance contributions are needed to qualify for the full basic State Pension.
The credits will be aimed at grandparents, and anyone who is providing care for a young relative under the age of 12.
Chief Executive of Grandparents Plus, Sam Smethers said:
We warmly welcome the introduction of the Grandparent National Insurance Credit. We know that working age grandmothers on low incomes provide a substantial amount of childcare. Until now they have done so with the risk that they could miss out on a full basic state pension.

This is also an important victory for the principle that grandparental childcare does count and should be recognised. We believe it has implications for other areas of government policy.
Notes to Editors:
The consultation begins today and runs until 26 November 2010. It is seeking views on introducing a new NI credit for grandparents and certain other adult family members who provide familial childcare for children under the age of 12, from the 2011/12 tax year.
The consultation also asks for responses on changes to Starting Credits - to have effect from 6 April 2010.
The consultation is available here: www.dwp.gov.uk/consultations
A response will be published by the end of February 2011 and the changes will be legislated for by April 2011.
Facts about grandparents
There between 11 and 14 million grandparents; of whom around in the UK, half are under the age of 65.
One in four working families and one in three working mothers use grandparents for childcare. This is valued at £3.9 billion.
One third of grandparents spend the equivalent of more than 3 days per week caring for their grandchildren.
The proportion of grandparents who are of working age is set to grow as we are all expected to remain in work for longer.
Half of all grandparents have a living parent, so they often have the task of caring for older relatives too.
Grandparents Plus is the national charity which champions the vital role of grandparents and the wider family in children's lives - especially when they take on the caring role in difficult family circumstances. http://www.grandparentsplus.org.uk/
Published 15 October 2010