Government gives £1 million to help people keep Active at 60
Community groups in areas across the country can now bid for money to help older people keep active and make the most of their later lives.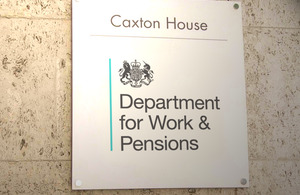 Community groups in 30 areas across the country can now bid for money to help older people keep active and make the most of their later lives.
As part of its Big Society ambition, the Government is providing £1 million to fund 'Active at 60', a project that will help older people who are most at risk of loneliness and social isolation.
Minister for Pensions, Steve Webb said:
Older people have never had a more important role in our society but people making the transition into retirement can lose their social network as they move out of employment and settle into a different routine, particularly those who have an illness or disability.

We hope Active at 60 will make a real difference to the quality of life of those approaching retirement or who have just retired, by helping them get out and about in their communities, improving their wellbeing and preventing the risk of social isolation as they grow older.
The project is part of the Government's ambition to build a Big Society in which power is transferred from Whitehall to local communities, and organisations and voluntary groups play a far greater role in their community.
Each local community organisation within the selected areas will recruit at least one Active at 60 Community Agent who will volunteer their time to help motivate, encourage and organise people within their own communities to become more active, physically, socially and mentally.
Active at 60 Community Agents will be from the communities they are helping, they will know what will work best, and will have the flexibility to design innovative ways of encouraging and inspiring activity.
From today, local groups in 30 selected areas across England can bid for grants of between £250 and £3,000.
The Department for Work and Pensions is working in partnership with the Community Development Foundation (CDF) who will distribute the funds.
Alison Seabrooke, Chief Executive of CDF said:
We know through our experience of managing small grant programmes the difference they can make to a community. We are an ageing population that wants to keep active - we look forward to hearing the great success stories from the communities who take part.
The projects are expected to start in the New Year.
Notes to Editors:
DWP are working in partnership with the Community Development Foundation who will distribute the funds to local area funders who in turn will invite local organisations to bid for a small grant. The Community Development Foundation can be contacted on: 0207 833 1772. Their website is: www.cdf.org.uk. The project will be independently evaluated to provide evidence to encourage other local communities to engage.
The following 30 areas and funding allocations have been decided upon on the basis of level of deprivation and age structure, whilst ensuring a broad split across the English regions, encompassing both rural and urban areas: 
Liverpool, Middlesbrough, Hackney, Sandwell, Kingston Upon Hull, Nottingham, Bournemouth, Southend-on-Sea, Brighton and Hove, Redcar and Cleveland, Wirral, Doncaster, Cornwall and The Isles of Scilly, East Sussex, Norfolk, Herefordshire, Lincolnshire, Enfield, Knowsley, Blackpool, Manchester, Stoke-on-Trent, Birmingham, Salford, Hartlepool, Tower Hamlets, Wolverhampton, South Tyneside, Rochdale, and Sunderland
Published 23 November 2010