Announcement
Government funding for 19,000 degree-level apprenticeships
From:

Part of:

Published:

1 December 2011
This was published under the 2010 to 2015 Conservative and Liberal Democrat coalition government
£18.7m from the Higher Apprenticeship Fund will support sectors including construction, advanced engineering, and financial services.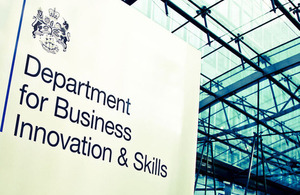 The Higher Apprenticeship Fund will support thousands of apprenticeships up to degree equivalent, enabling employers, colleges and universities to deliver the advanced skills most critical for growth.
Around 250 employers, including Leyland Trucks, Unilever, TNT, and Burberry will benefit from world class, nationally accredited technical training delivered in the workplace.
The funding announced today is part of a £25m fund for Higher Apprenticeships announced in July. A second round of bids to the fund will be invited early in the New Year, focusing closely on further areas needed to support economic growth.
Nineteen partnerships comprising employers and training providers will receive a total of £17m, following a competitive bidding process.
A further £1.7m has been invested in two new 'Trailblazer' projects in information technology and science, engineering and manufacturing, delivering 6,000 Higher Apprenticeships.
Last week the latest phase of the Apprenticeship Programme was launched, which included a new £30m fund to support small firms - creating 20,000 additional young apprentices and measures to reduce red tape for all employers providing apprenticeships.
New Challenges, New Chances
The Government's response to the sector wide consultation New Challenges, New Chances published today sets out reforms that will make further education providers more responsive to the needs of local employers in delivering apprenticeships and other training.
These include:
A simplified FE funding system.
Freedoms and flexibility for colleges and providers.
The National Careers Service.
Improving adult literacy and numeracy.
Global FE.
Excellence in teaching and reforming FE sector governance.
Business Secretary Vince Cable said:
"Investing in skills is central to our drive to boost business and productivity and make the UK more competitive.
"By radically expanding the number of degree level apprenticeships for young people, we will put practical learning on a level footing with academic study.
"This is an essential step that will help rebalance our economy and build a society in which opportunity and reward are fairly and productively distributed."
Links
Press Notice - 19,000 new higher apprenticeships to deliver skills for growth
Press Notice - Business and learners to benefit from stronger, more flexible FE sector
Document information
Published: 1 December 2011