Government frees councils to tackle homelessness
Housing Minister Mark Prisk announces new rules to house homeless people and help cut waiting lists.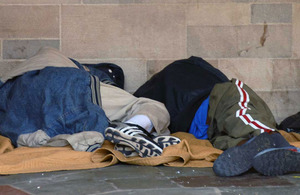 New laws coming into effect from today will give councils the freedom to help those facing the frightening prospect of homelessness by finding them suitable homes in the private rented sector.
Previous rules meant that many homeless households spent long periods in expensive temporary accommodation, turning down offers of good quality private rented accommodation while waiting for social housing.
Mr Prisk said that the new changes would make waiting lists fairer, helping councils fulfil their legal duty to those in need of homelessness help without the extra expense of long-term temporary accommodation.
But he said the new protections in place today would also ensure that every rented home offered by councils would be good quality suitable accommodation, offered for sufficient time to allow households the space to resolve a homelessness crisis.
The homes on offer must meet a set of key standards, and councils will be required to minimise any disruption a move would cause to employment, education or caring responsibilities. This would include considerations such as transport, amenities and medical issues.
Safeguards include:
a current Gas Safety record
any appliances, furnishings and wiring conforming to standards on fire and electrical safety
the need for a valid Energy Performance Certificate
a written tenancy agreement that the local authority considers adequate
the council must also be satisfied that the landlord is a 'fit and proper person'
Mark Prisk said:
"For too long, councils have been restricted in the way they provided homeless assistance when good quality rented accommodation was available right on their doorstep. Today's changes will lead to a fairer system.
"The safeguards we've put in place today will give vulnerable families the reassurance they need whether they're housed in the private or social rented sector, and with new freedoms and flexibilities, councils can now fulfil their duty and provide a safe and secure roof for the people who need it most."
Notes to editors
The new power under the homelessness legislation, which commences on 9 November 2012, allows local housing authorities to end the main homelessness duty with offers of accommodation in the private rented sector without requiring the applicant's agreement.

To provide certainty for households, the changes to the legislation also put in place protections to ensure that the accommodation will be available for a sufficient period of time, with a 12 month guaranteed tenancy and a duty to help the household if they become unintentionally homeless within 2 years.

A new Suitability Order that accompanies the power sets out circumstances where the accommodation is to be regarded as not suitable. It also sets out matters authorities must take into account when considering the location of accommodation.
Published 9 November 2012