Press release
Government explores future technology and innovation opportunities
A new Foresight report highlights the scientific and technological areas that could transform the UK economy over the next 20 years.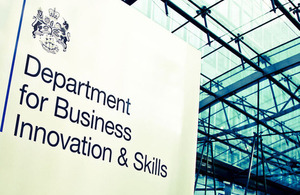 'Technology and innovation futures' examines possible technological developments that have the potential over the next 20 years to support economic growth in the UK. It has encouraging messages for government and UK businesses and identifies a number of areas where future investments may generate significant returns.
The report is based on a workshop process designed to generate views and ideas. It concludes that there are strong opportunities for growth in the UK economy through the 2020s if businesses can 'harness scientific and industrial capabilities to take advantage of technology developments' and identifies 3 potential areas of growth which could be transformative;
manufacturing - there is potential for the UK to be part of a 21st Century manufacturing revolution fuelled by new technologies and bespoke on-demand manufacturing
infrastructure - including R&D and deployment of smart electric grids and increased use of sensor networks
the internet - there is potential for a second internet revolution to transform the way we use data, and to open up opportunities for the creation of major new businesses
Other areas highlighted by the report are the energy transition which the UK will undergo during the next 10 to 20 years, the UK's R&D efforts in new materials which could help realise the move to a low carbon economy, the potential of the market for regenerative medicine and the increasing importance of intellectual property - all of which offer opportunities for UK companies.
The report argues that longer-term thinking, planning and support are vital for sustainable growth. Government should continue to listen to businesses, but businesses could also work together more in developing sector-wide strategies - these might suggest how government could support their activities, whether by reducing regulation, using procurement to boost innovation, or helping them seize export opportunities.
Minister for Universities and Science David Willetts said:
This timely report looks at how we can benefit from the growth opportunities of the next 20 years in manufacturing, health, communications and energy. It calls for more active cooperation between large companies, small and medium enterprises and researchers to plan ambitious strategies for the benefit of their sectors. Developments in this area will help strengthen our economy and enable us to lead the way for innovation.
Government Chief Scientific Advisor, Professor Sir John Beddington said:
This report has identified a number of ideas for how developments in science and technology through to the 2020s may have the ability to change many aspects of our daily lives and transform our economy.
The 'Technology and innovation futures' project, led by the Foresight Horizon Scanning Centre in the Government Office for Science under the direction of the Government's Chief Scientific Adviser, Professor Sir John Beddington, aims to highlight potential technological developments which could help to grow the UK economy; asking what are likely to be the sources of growth driven by consumer demand and public expectation in the decade 2020 to 2030. The ideas identified by this project will be considered by the Technology Strategy Board.
Iain Gray, Chief Executive of the Technology Strategy Board said:
The Technology Strategy Board welcomes the publication of this report and its distillation of views from a wide range of informed individuals and bodies. We will take its findings into account as we take forward our work on Emerging Technologies and Industries, and in other areas of our portfolio.
Notes to editors
Published 4 November 2010