News story
Government doubles funding for pothole repairs
More money is to be given to English highway authorities to repair potholes.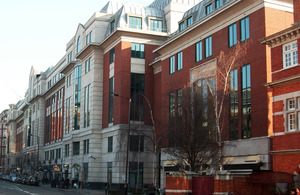 Councils have today (24 March 2011) been told how they will benefit from the doubling of funding available for repairing potholes as announced in yesterday's Budget.
Transport Secretary Philip Hammond has written to all English local highway authorities to inform them of their share of £200 million.
Last month the Department for Transport announced that it was making available £100 million as an exceptional payment to help with much needed road repairs following the severe weather at the end of last year. This extra funding was made possible because of savings the Department made earlier in the financial year.
However, further savings have now been identified and so more money has been made available for this vital programme.
Transport Secretary Philip Hammond said:
Potholes are a menace to all road users and I want councils to make fixing them a priority.

That is why, when more funding became available, I agreed with the Chancellor that we would double the amount of money we are providing for repairs to be carried out.

This represents a significant investment in road maintenance at a time of severe fiscal restraint, demonstrating the Government's commitment to maintain our infrastructure to support motorists and businesses.
The funding is in addition to the £831 million already provided to councils for road maintenance this year and the £3 billion the Government has committed over the next four years.
All 153 local highway authorities in England, including those in London, will receive a share of the funding. To ensure the money can be distributed over the next few days, the funds will be automatically distributed to English local authorities according to the formula used to distribute road maintenance funding rather than councils needing to apply for it.
To promote greater transparency and accountability, all local highway authorities have agreed to publish information on their website by 30 September 2011 showing where this extra money has been spent.
Further information
The Department for Transport announced in a press release on 23rd February that councils in England would be given more than £100 million of extra funding to spend on repairing potholes.
The Chancellor of the Exchequer George Osborne announced in yesterday's Budget that the total funding being made available is now £200 million, which will be shared across all local highway authorities in England including London (please see allocations below).
As the damage caused by severe weather was widespread across the country and to minimise administrative burdens for all concerned, the funds will be distributed formulaically based on the Department's existing highways maintenance capital funding formula (which takes into account road length and condition).
As part of this additional funding, the Department requires local highway authorities to publish a brief note on their website by 30 September 2011 for local communities to be able to see how this extra funding has been spent. In order to qualify for the funding, councils were required to confirm they accepted these conditions by 16 March 2011 and all 153 Local Transport Authorities agreed to do so.
This funding is being provided on an exceptional basis. It remains the responsibility of local councils to plan and manage their road maintenance programmes throughout the year, including appropriate winter resilience measures.
Potholes are formed when water freezes in small cracks in the road, expanding and forming a larger cavity.
To see how the money will be allocated consult the pothole repair table
Roads media enquiries
Media enquiries 020 7944 3021
Out of hours media enquiries 020 7944 4292
Switchboard 0300 330 3000
Published 24 March 2011