News story
Government curbs rail fare rises
Patrick McLoughlin visits Birmingham New Street station to see upgrade work as fares freeze comes into effect.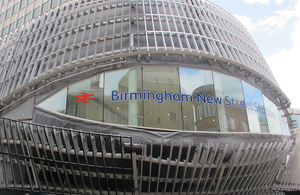 Transport Secretary Patrick McLoughlin visited Birmingham New Street station today (2 January 2015) to see how the government's record investment in the rail network is benefiting passengers.
The visit took place on the day the government's latest freeze on rail fares came into effect. For the second year running, regulated fare rises have been capped at the rate of inflation (RPI) in order to support hard-working families and protect passengers from unnecessary fare hikes.
The Transport Secretary was given a tour of the £700 million station upgrade which is transforming the city station and shopping centre complex into a modern gateway to the West Midlands. The improvements will help boost economic growth by creating jobs and encouraging regeneration of the wider area.
Transport Secretary Patrick McLoughlin said:
We are investing in the biggest rail modernisation since the Victorian era, and fares have a crucial role to play in funding these improvements. This is because building better infrastructure helps create jobs, building a stronger economy for us all.

The work at Birmingham New Street is truly impressive and will make a real difference to passengers when it completes later this year. As we invest in projects like this, it is important that we recognise passengers' concerns about the cost of rail fares. This is why we have frozen them for the second year in a row.
In addition to freezing regulated fares at 2.5% in 2015, the government has also removed the train operators' powers to increase individual fares by as much as 2% more. Operators have also been asked to improve the information passengers receive when buying a ticket.
Industry figures show that for every pound spent on fares, 97 pence goes back into the rail network in the form of track maintenance, improvement works, staff and train costs, while only 3 pence goes into train company profits.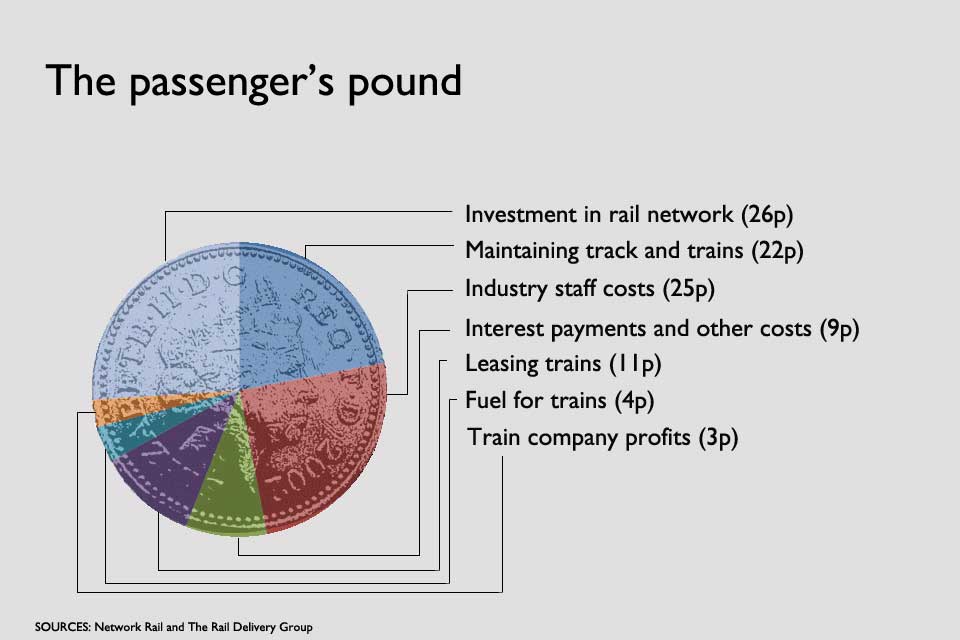 Investing in the UK's railways is an important part of the government's long term economic plan. Over the next 5 years, more than £38 billion will be spent on improving and maintaining the rail network across the country, giving passengers more seats, more services and better journeys. This includes the £1 billion northern improvement programme which will provide faster journeys and more trains between key northern cities and the Crossrail and Thameslink projects, which will increase London's commuter capacity by 20%.
When completed in September 2015, Birmingham New Street will have larger waiting areas, a new ticket office, improved security and better passenger information. Accessibility will also be improved, with 15 new lifts, more than 30 new escalators and the station will be enclosed by a giant atrium allowing in natural light.
The adjoining Pallasades shopping centre is also being redeveloped, with a new John Lewis store creating up to 1,000 new jobs for Birmingham and boosting the local economy.
Rail investment 2014 to 2019
Over the next 5 years, £38 billion of investment will:
provide capacity for 170,000 extra peak-time seats
electrify more than 850 miles of railway, and improve more than 4,000 miles of track
transform hundreds of stations around the country including London Bridge, Manchester Victoria, Birmingham New Street and Glasgow Queen Street
close 500 level crossings to improve safety
provide faster journeys and more trains every day between key northern cities as part of the Northern hub
deliver a new electrified railway connecting Oxford with Bedford and Milton Keynes, as part of the east west rail project
increase central London's commuter rail capacity by 20% through the completion of the Crossrail and Thameslink projects
Rail media enquiries
Media enquiries 020 7944 3021
Out of hours media enquiries 020 7944 4292
Switchboard 0300 330 3000
Published 2 January 2015