Government confirms capital funding for youth projects
The myplace programme secures £134 million to complete its work.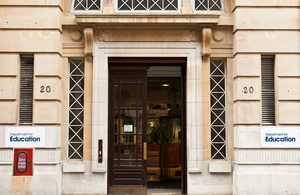 Children's Minister Tim Loughton confirmed today that the Department for Education has secured capital funding to enable all 57 remaining projects planned under the myplace programme to continue.
The department has secured £134 million over 2011-13 to complete the programme.
Children's Minister Tim Loughton said:
I am delighted to confirm that 57 projects funded through the myplace programme will be able to continue to completion. In the tough economic climate, securing this funding is testament to the importance the government is placing on supporting young people.
It is vital that communities provide fun, safe places and activities for all young people, as well as extra support for the more disadvantaged, at a place that is popular and accessible.
I will be looking to these projects to make the very most of the resources they are receiving and to take every opportunity to promote young people's positive and active role in society. I want to see them working closely with their communities and local businesses to ensure they are sustainable in the long term. I also want projects led by local authorities to transfer or share ownership with the local community and with young people.
There are already 12 myplace centres open across the country, being used by hundreds of young people each week, a further 31 are currently under construction and 26 are yet to have their plans approved. The government has instructed the Big Lottery Fund, who manage the myplace programme, to ensure that they and project sponsors are confident that projects are sustainable in the long term before giving them final approval to proceed to construction.
Jeremy Glover, Chief Executive of Onside North West, former CEO of Bolton Lads and Girls Club, said:
I'm absolutely delighted that the government is committed to investing in facilities for young people. Young people do not have a strong collective voice and often their needs and aspirations are overlooked. At a time of unprecedented cutbacks, it really is fantastic news that the Government is investing in young people and their futures.
Mark Blundell, Chief Executive, Salmon Youth Centre said:
It is fantastic news that in these difficult times the myplace programme is going to continue to develop world-class facilities for young people to become actively involved in positive activities in their communities and the big society.

As an early recipient of a myplace grant enabling us to complete our £11 million centre, we know how important it is to have quality facilities for young people. Moving forward there will undoubtedly be hurdles to overcome in fulfilling the vision and passion that was behind the development of all the individual myplace centre proposals, but simply knowing that these state-of-the-art buildings have or will very soon be completed around the country can only be good news for this and future generations of young people.
Notes to Editors:
Tim Loughton wrote to projects to confirm the capital funding they were awarded through the myplace programme.

The funding was secured as part of the Government's Comprehensive Spending Review settlement and will be available to projects over the next two years, subject to meeting programme requirements, particularly in relation to financial sustainability.

Table of funding allocations:
Funding round

Region

Local authority area

Project name (* projects complete and open to young people)

Fast Track

East

 Norfolk
 OPEN Central*
Southend-on-Sea
Shoeburyness Youth Centre*

East Midlands

 Derbyshire
 Myplace Chesterfield*

Leicestershire

Hinckley Club For Young People*

London

 Camden
 New Horizon Youth Centre*

Enfield

TAB Centre Plus

Southwark

Salmon Centre*

Wandsworth

SuttonLife Centre*

 

North East

Durham

 The Hub

Hartlepool

Northern Lights Academy

North West

 Cumbria
 Carlisle Youth Zone 

Lancashire

Bradley Youth Centre

 

South East

 Kent
 The Hub

Oxfordshire

Pegasus Theatre - Building The Future*

South West

Bournemouth

 Primetime

Devon

Dawlish Youth Centre* 

Somerset

Access All Areas*

Somerset

Minehead EYE*

West Midlands

 Stoke on Trent
 The Young Persons Village

Walsall

To be confirmed

Yorkshire & Humberside

 Leeds 
 The Big Hub
 Standard track

East

 Hertfordshire
 Extreme Connexions

Suffolk

The XCHANGE Project

East Midlands

 Leicester
Leicester City Youth Hub

Lincolnshire

The Showroom

Nottingham

The NGY

Nottinghamshire

Myplace at Westfield Folk House Young Peoples Centre

 

London

 Bexley
Thamesmead Youth Leisure Zone

Brent

The Roundwood Centre - A Beacon for Young People in Brent

Hackney

Hackney's Youth Hubbz

Harrow

The Pitch - A Place to Go

Havering

Dream Street

LB of Islington

Hornsey Road Baths Youth Centre

Newham

Plashet Young Peoples Hub

North East

 Middlesbrough
Middlesbrough Myplace at the Custom House

Newcastle-upon-Tyne

Myplace@Vine Lane (MP@V)

Redcar & Cleveland

Tuned In

Stockton-on-Tees

ICE Centre (Inspiration, Creativity & Entertainment)

 

North West

Blackburn with Darwen

Blackburn Youth Zone

Blackpool

Southpoint - the Blackpool Youth Hub Centre

Halton

The Buzz*

Knowsley

Our Place 'Where there will be more young people than adults'

Liverpool

Toxteth Youth and Sports Centre

Manchester

Manchester Youth Zone (Harpurhey)

Oldham

Oldham Youth Zone

Trafford

Trafford Youth Village 

South East

 East Sussex
HastingsYouth Hub

West Sussex

The Phoenix Centre

 

 

South West

 

Bath & NE Somerset

 

Southside Regeneration Youth Project

Bristol

MyPlace Bristol

Torbay

Parkfield

West Midlands 

 

Birmingham

 

Youth Centerprise

Birmingham

Integrating Youth Project

Shropshire

TeenSpace Shrewsbury and TeenSpace Oswestry

Solihull

MYplace in Solihull

Staffordshire

Chesterton's Vision
 

Yorkshire & Humberside

 

Bradford

 

Culture Fusion

Doncaster

Myplace in Doncaster

Rotherham

Rotherham myplace (RMP - working title)

Sheffield

U-Mix

Wakefield

The HUT - One Hut, Five Towns, Many Talents

Round two

East

 Luton

TOKKO

London

 

Enfield

 

Project Inspiration@ Edmonton Youth Hub

Lewisham

Wells Park Youth Facility

Tower Hamlets

Spotlight Youth Centre 

 

South West

 Dorset
 STEPS: Weymouth Young People's Union

Yorkshire & Humberside

 

Calderdale

 

The Orangebox Young People's Centre 

Kingston-upon-Hull

Hull YP Interchange

North Yorkshire

The Street
DfE enquiries
Central newsdesk - for journalists 020 7783 8300
General enquiries - for members of the public 0370 000 2288
Published 7 December 2010