Government clamps down on legal aid dodgers
Tough new measures to make sure convicted criminals pay back legal aid have been put out to consultation by Chris Grayling.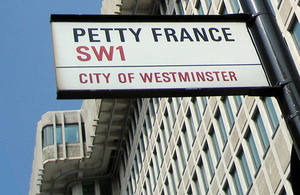 Tough new measures to make sure convicted criminals pay back legal aid have been put out to consultation by Justice Secretary Chris Grayling today.
It is estimated that less than 20% of the money which should be paid back is currently collected. With £700 million a year spent on Crown Court legal aid, it is vital we tackle criminals who leave innocent taxpayers to foot their bills through deliberate evasion.
 
Today's consultation proposes robust action against those who do not pay their bills, for example seizing their cars, taking action against criminals who hide assets or earnings which later come to light and preventing criminals refusing to cooperate with assessment of their financial assets.
 
Justice Secretary Chris Grayling said:
 
'Convicted criminals have cheated innocent taxpayers for too long by dodging requirements to contribute to the legal costs of their defence. It is not right that law abiding citizens foot the bill when those concerned can pay.
 
'These proposals set out robust measures that will see more costs recuperated from criminals. This includes measures like seizing assets, such as cars, from criminals who attempt to evade paying back these fees by hiding income and savings.'
 
All defendants are granted legal aid for the cost of their defence in Crown Court cases. If convicted criminals are capable of paying some, or all, of their legal aid bill back, they are required to do so.
 
Currently some criminals evade payment by refusing to cooperate with attempts to assess the value of any financial assets they may have. The consultation launched today proposes that where a defendant is believed to have assets but is refusing to provide the required information, they will then simply be pursued for the entire cost of their legal aid bill.
 
Another proposal will ensure action can be taken against criminals who hide assets or earnings to reduce the amount they are required to pay. If assets or earnings come to light, after their legal aid contribution has been imposed, the amount they have been to ordered to pay will be adjusted to capture them.
 
The consultation also recommends that if criminals fail to make the ordered payments toward their legal aid costs then their vehicles will be clamped and sold in order to cover the bill.
Notes to editors:
The Crown Court means testing of criminal legal aid consultation will open on 30 October 2012.

Means Testing was introduced in Magistrates Courts in 2006 and was extended to Crown Courts in 2010.
For a defendant facing trial at the Crown Court, provided he/she submits a completed application form they will be granted legal aid. Under the Crown Court Means Testing scheme, a financial assessment of the defendant's means is then used to determine whether or not the defendant should be asked to pay a contribution towards their legal aid defence costs from their income and/or capital assets.
If the defendant is liable to pay a contribution from income, he/she will be issued with an Income Contribution Order comprising 6 monthly payments.
If the defendant is convicted at the end of the trial, they may be liable to pay any outstanding defence costs from their capital assets through a Capital Contribution Order. In the event of an acquittal, the defendant will be refunded any income contributions.
The consultation opens today and closes on 11 December 2012.
Published 30 October 2012